December
-
December
Conference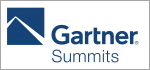 The premier gathering of applications infrastructure and business applications leaders, Gartner Application Architecture, Development & Integration Summit 2015, delivers the latest insights and strategies across today's changing application priorities. From legacy modernization to agile architectures, from emerging technologies to multichannel experiences, this year's conference digs deep into the application revolution driving digital business transformation.
Asanka Abeysinghe, VP Solutions Architecture will present a session at the event titled 'Pragmatic approach to Microservice Architecture: Role of Middleware' on Wednesday, 2 December from 3:15 pm to 4:00 pm. Asanka will discuss how middleware plays a key role in successful Microservice Architectures (MSA) and will provide insights into MSA requirements from real-world examples and details of an architect friendly pragmatic approach. Asanka will explain essential middleware capabilities, where you can also utilize supportive technologies such as Continuous Integration (CI), containerization and Container as a Service (CaaS).
WSO2 is a Platinum sponsor at this year's event.

Asanka Abeysinghe
VP Solutions Architecture, WSO2
This webinar will focus on the Web security feature of WSO2 ESB 4.9.0 and the changes and improved functionalities applied to it with the new release. It will show you how you can efficiently secure your enterprise services with this new feature.
In this webinar Kasun and Kalpa will discuss and present a demo on the features of WSO2 Application Server 5.3.0.
This webinar will introduce WSO2 Data Analytics Sever 3.0, which is a successor of WSO2 Business Activity Monitor 2.5 and will discuss its all new features and capabilities.
This webinar will focus on the new features of WSO2 Message Broker 3.0, which help you overcome the challenges of enterprise integration.
In this webinar, WSO2, Yubico co-creator of U2F, and WSO2's premier integrator Yenlo explain the technology, discuss the use cases for strong authentication, and demonstrate the power and ease-of-use of the U2F security key.
This webinar in an introduction to WSO2 Enterprise Service Bus 4.9.0 and will discuss extension points, inbound endpoint and connectors.
This webinar will discuss how Cloud-to-Cloud integration with WSO2 Enterprise Service Bus connectors helps to integrate across multiple SaaS system APIs.