Forum
Smart Analytics for Banks and Financial Services
Technology has continuously transformed banks and financial institutions in the past few decades, enabling them to shine in this increasingly competitive industry. And now, advanced analytics is offering these industry players the best chance yet to re-assess and redefine their strategies. Innovators in this space are already eyeing the benefits of leveraging 'smart analytics' to predict customer behavior, sharpen risk assessment, control costs, and drive revenue.
Who should attend?
CIOs and CTOs of banking and financial institutions
Heads of IT, Risk management and Card center of the banking and FI sector
This forum will explain how you can incorporate smart analytics via a 100% open source platform to:
Detect and prevent fraud and money laundering activities
Manage risk in real time within rapidly changing markets
Predict churn and provide dynamic retention offers
Implement real-time contextual advertising to attract customers
Monetize transactional data insights to create new revenue streams
Presented by: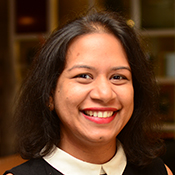 Seshika is a Senior Technical Lead at WSO2 and focuses on the applications of WSO2's middleware platform in financial markets. Throughout her career, she has had extensive experience in providing technology for stock exchanges, regulators and investment banks from across the globe. Her current area of interest is in streaming analytics and its usage in diverse industries. She holds a BSc (Hons) in Computer Science from the University of Colombo, Sri Lanka and an MSc in Finance from the London School of Economics, UK and is a British Chevening Scholar. She has presented at In Memory Computing Summit 2015, Apache Big Data Europe 2015, Big Data Tech Con 2015, Apache Big Data Europe 2016. She will also be speaking at In Memory Computing Summit in June 2017 and Bank Tech Asia in July 2017.
Bring your concerns, questions, or any issue related to fraud detection you want to solve! We would like to keep this session as interactive and productive as possible.

London
Thursday, May 25
9:30 AM to 12:15 PM
CodeNode
10 South Place, London,
EC2M 7EB, GB

Media Sponsorship