Workshop
Integration in the Age of Digital Transformation
Every enterprise has a multitude of existing systems that perform critical functions, including on-premise, internal and external, as well as cloud systems. Integrating information across these systems is critical for an enterprise to successfully implement its digital products by way of enabling the organization to offer APIs that provide critical business functions to attract new markets. Therefore, most often than not, enterprise integration is at the heart of any organization's digital transformation strategy.
Who should attend?
Enterprise architects, solution architects, CTOs, CIOs and others that wants to learn about the role of integration in digital transformation and how WSO2 Enterprise Integrator is used to achieve this.
This workshop will explore the following areas:
Overview of enterprise integration: The past, present and future
Integration service: Is it an anti-pattern in future enterprise architecture?
Integration beyond the ESB: Integrating services, systems, data and identities
The role of integration in microservices, Internet of Things (IoT) and APIs
Redefining the developer experience
Hybrid integration: On-premise, integration Platform as a Service (iPaaS) and iSaaS
Presented by: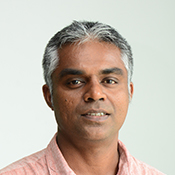 Associate Director / Solutions Architect
Dassana is a member of the WSO2 Solutions Architecture team. He has provided technology consulting on customer engagements helping them to successfully implement, evolve and operate rapidly-changing resilient enterprise systems based on SOA and EAI at scale in multiple domains ranging from finance (Internet only banks) to IoT (smart cities). He is an experienced coach and speaker with more than 15 years of experience in the industry. He advises and assists CxOs, architects, consultants, analysts and technical specialists in a wide range of architectural disciplines.
WSO2 workshops are meant to be practical, interactive and educative. They are presented by WSO2 personnel who regularly participate in architecture reviews and consulting services and very often are a part of our engineering team.

Auckland
Thursday, June 22
9:30 AM to 1:30 PM
Rydges Auckland
59 Federal Street,
Cnr Kingston Street,
Central City Auckland 1010
New Zealand