Workshop
Architecting the Digital Enterprise
Today, consumer experience has advanced leaps and bounds because of modern technology and people's lifestyles. With the advent of social communication, mobile devices and a multitude of easily available and accessible apps, consumers today expect highly flexible, user-friendly, quick and agile services from enterprises. Enterprises need to meet these high expectations if they are to remain competitive. More importantly, they should also revisit their technology to see whether they are better equipped to provide such services.
Putting together a new enterprise architecture is hard. Dissecting an existing enterprise architecture and putting it back together with the necessary parts is even harder. The objective of this workshop is to identify the main pillars that are needed to build such an enterprise architecture. It will also explore how WSO2 can help you do so.
Who should attend?
Enterprise architects, solution architects, CTOs, CIOs and others that wants to learn on how the WSO2 platform can help them build a digital enterprise architecture.
This workshop will
Discuss trends towards becoming a digital enterprise
Explore what that means from an enterprise's perspective
Identify the steps to architecting a digital enterprise
How to leverage WSO2's offering to architect a digital enterprise
Demonstrate an example that puts theory into practice
Presented by: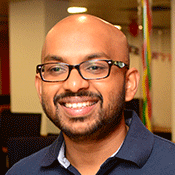 Associate Director/Solutions Architect
Nuwan works closely with WSO2 customers on enterprise solutions. His experience spans across multiple verticals such as e-government, education, e-commerce and healthcare. Prior joining the WSO2 solutions architecture team Nuwan worked as a product lead in WSO2 engineering team and has provided technical leadership for products such as WSO2 User Engagement Server (UES), WSO2 Enterprise Store (ES) and Jaggeryjs framework. Nuwan has also contributed to projects such as API Manager and Carbon within WSO2 and to the Apache Web Services and Shindig projects in the Apache Software Foundation.In 2007 and 2008, Nuwan was involved in research and development for the European Union's Information Society Technologies SOA and mobile computing projects. He is also a member of the British Computer Society.
WSO2 workshops are meant to be practical, interactive and educative. They are presented by WSO2 personnel who regularly participate in architecture reviews and consulting services and very often are a part of our engineering team.

New York
Tuesday, March 28
9:30 AM to 1:30 PM
WSO2
23rd Floor,
5,Penn Plaza,
New York, NY 10001