WSO2 Open Banking: Digital Transformation Through PSD2
WSO2 Open Banking: Digital Transformation Through PSD2
Thursday, August 03, 2017
10:00 AM - 11:00 AM (GMT)
If you are a financial institution in Europe, you would be in one of three places when it comes to PSD2: ready to take PSD2 by the horns, making some progress with compliance but still trying to understand the big picture, or unsure of where to start.
The good news is that it doesn't matter where you're at. WSO2 Open Banking offers a solution that addresses all compliance requirements. It doesn't stop there. It can open up your business to broader revenue generation opportunities through PSD2 in the context of digital transformation.
Join Seshika Fernando, senior technical lead at WSO2 as she explores
The role of PSD2 in redefining banking as we know it.
The core capabilities of WSO2 Open Banking including the WSO2 API Management platform that enables opening APIs in a secure and controlled manner.
How WSO2 Open Banking can support your technology infrastructure for capabilities beyond banking.
A demonstration of the solution
Presenter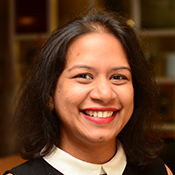 Seshika is involved in the application of WSO2 products in financial markets. She works in the Research team at WSO2, and is currently focused on creating anomaly detection solutions using the WSO2 Analytics Platform. Seshika started her career at Millennium Information Technologies and later joined Commercial Bank of Ceylon on completion of her postgraduate studies. She has spoken on similar topics at many industry conferences including ApacheBigDataCon, In Memory Computing Summit and BigDataTechCon among others.