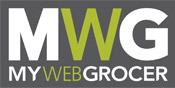 New case study explores how MWG used pre-integrated WSO2 API Manager and WSO2 BAM to manage the APIs driving its customized ads
Mountain View, CA – January 5, 2015 – WSO2 today announced that MyWebGrocer (MWG), a leading provider of digital marketing and e-commerce solutions to the grocery and consumer packaged goods industries, has revamped its digital display advertising system with WSO2. A new case study examines how MWG relies on the 100% open source WSO2 API Manager and WSO2 Business Activity Monitor (WSO2 BAM) to tailor digital ads for consumers while maintaining high availability and responsiveness even during peak periods. The full case study can be downloaded at https://wso2.com/casestudies/mywebgrocer-brings-consumers-and-grocers-together-with-api-driven-personalized-ads-based-on-wso2-software.
MyWebGrocer offers an online shopping platform used by top grocery retailers, with more than 10,000 retail locations in the US, and plans for expansion into Asia Pacific and Europe. MWG delivers both HTML dynamic media ads and Adobe Flash-based rich media ads on its ad network and on public websites that participate in other online networks, such as Google DoubleClick.
Building an API Management Platform with WSO2 Software
MWG connects online consumers with local grocers. With each online ad, an API is called to retrieve customized user data in order to show products that might interest the individual consumer. The case study from WSO2 investigates the technology and market demands MyWebGrocer faces and how the company has addressed them by implementing WSO2's pre-integrated WSO2 API Manager and WSO2 BAM products. It also examines how:
The use of caching for geolocation and store information enables WSO2 API Manager to respond in just 8 milliseconds in recent advertising campaigns—meeting consumers' demand for immediate access.
WSO2 BAM enables MWG to better understand its traffic patterns, including peak loads and bottlenecks, in order to tune the system, optimize its server infrastructure, and produce metrics for reporting.
MWG maintains high availability through load balancing, circular replication of its MySQL Server databases, and regular automated testing of API management performance.
"WSO2 API Manager and WSO2 BAM's distributed design was very attractive, both capable and adaptable to our existing system, but what was really essential to us was the integration between WSO2 API Manager and WSO2 BAM," said Chuck Megivern, MWG senior software engineer. "WSO2 has truly helped us become a 'connected enterprise,' bringing everything and everyone in our system together, and we are thrilled to continue advancing this system to support our company's growth."
"MyWebGrocer is a model for today's API-driven economy, using managed APIs to
understand the needs of consumers and connect them with the grocers and brands that best meet those needs," said Dr. Sanjiva Weerawarana, WSO2 founder and CEO. "We are excited by MWG's success in implementing WSO2 API Manager and WSO2 BAM to help deliver highly customized ads and achieve the immediate responsiveness that consumers demand. It reflects the strength of our modular, open source approach to enabling enterprise systems for today's connected world."
About MyWebGrocer
MyWebGrocer drives digital connections between consumers, grocery retailers, and
Consumer Packaged Goods brands, offering a breadth of shopper marketing services
supported by a comprehensive technology platform. MWG manages digital solutions for more than 180 retailers nationally, representing more than 10,000 stores, and 500+ major consumer packaged goods brands. For more information, visit http://mywebgrocer.com.
About WSO2
WSO2 delivers on the promise of the connected business with the only completely integrated enterprise platform that enables businesses to build, integrate and manage their APIs, applications, and Web services on-premises, in the cloud, and on mobile devices. Leading enterprise customers worldwide rely on WSO2's award-winning 100% open source platform and its robust governance and DevOps functionality for their mission-critical applications. Today, these businesses represent nearly every sector: health, financial, retail, logistics, manufacturing, travel, technology, telecom and more. Visit https://wso2.com or check out the WSO2 community on the WSO2 Blog, Twitter, LinkedIn, Facebook, and FriendFeed..
Trademarks and registered trademarks are the properties of their respective owners.