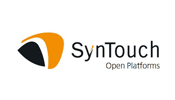 SynTouch, a partner in integration, and WSO2, an open source middleware provider, today announced a preferred partnership.
Eindhoven, The Netherlands – September 1, 2016 – SynTouch's core business since 2007 has been to connect a world of people, devices and applications, create advanced and distinctive business models and optimize customer experience. As every organization has its own specific processes, objectives, and resources, numerous integration solutions are thinkable. Ronald Coenen who does business development at SynTouch states "It is our goal to be able to provide each of our unique customers an integration solution that suits their needs and budget. As open source solutions are gaining ground we decided to extend our expertise with the open source integration solution provided by WSO2 in 2015. This enables us to serve even more customers because of the componentized architecture - where you deploy only what you need - and low friction investment model."
Digital Transformation and Innovation
To be competitive in today's digital economy, organizations need to take steps to become digitally mature. This can be done through both internal and external digital innovations and transformations. WSO2 provides a comprehensive open source platform that supports digital transformation and allows organizations to drive innovation. Ronald Coenen says "WSO2 is a fast growing organization that is taking the lead in open source integration. They are market leaders in the area of governance with products like the WSO2 Governance Registry and WSO2 API Manager. Gartner even named WSO2 as a 'Cool Vendor' in The Internet of Things Analytics, 2016 report. Being a preferred WSO2 partner, SynTouch can now offer even more customers a comprehensive and reachable middleware solution to seamlessly migrate their web applications and online services."
About SynTouch
Transformation requires new business models, these models require integration. Integration requires specialists: specialists with extensive experience and intensive knowledge, who always keep the customer's interest in mind. Specialists operating at the highest level, without losing track of the smallest details. The SynTouch team consists of experienced, professional and customer-focused consultants including architects, business consultants, designers, developers, integration consultants and support engineers. All of them are qualified and driven professionals, helping your company with the implementation and execution of new solutions to grow your business. To learn more visit www.syntouch.nl.
About WSO2
WSO2 empowers enterprises to build connected businesses and accelerate their pace of innovation with the industry's only lean, fully integrated, and 100% open source enterprise middleware platform. Using WSO2's platform, enterprises have all the functionality to build, integrate, manage, secure and analyze their APIs, applications, Web services, and microservices—on-premises, in the cloud, on mobile devices, and across the Internet of Things. Leading enterprise customers worldwide rely on WSO2's platform and its robust performance and governance for their mission-critical applications. Today, these businesses represent nearly every sector: health, financial, retail, logistics, manufacturing, travel, technology, telecom and more. Visit https://wso2.com to learn more, or check out the WSO2 community on the WSO2 Blog, Twitter, LinkedIn and Facebook.
More Information
For more information about SynTouch and WSO2 you can contact Ronald Coenen at SynTouch, via mobile +31 6 45360606 or e-mail [email protected].
Trademarks and registered trademarks are the properties of their respective owners.