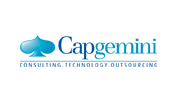 Together, WSO2 and Capgemini Italia will support private and public organizations in their IT infrastructure transformations in order to meet the needs of a more connected world
Mountain View, CA – March 18, 2015 – WSO2 today announced a strategic partnership with Capgemini Italia, a company of Capgemini Group, one of the world's leading consulting, technology and outsourcing services companies. The partnership is designed to foster the cooperative and synergetic development of high value-added solutions and services that enable organizations to address the opportunities and challenges of an increasingly connected world. (For an Italian-language version of this announcement, visit https://wso2.com/about/news/wso2-e-capgemini-italia-insieme-nel-sostenere-le-architetture-it-di-fronte-alle-nuove-sfide-del-business-digitale/).
WSO2 partners with world-class system integrators to address the rapidly growing global demand for WSO2's award-winning platform. As a Premier Partner of WSO2, Capgemini Italia represents the highest level of experience and collaboration. Through the partnership, WSO2 provides Capgemini Italia with ongoing support throughout the design and development process, training, certification, sales engineering support, joint sales and co-marketing. Additionally, WSO2 supports Capgemini Italia's customer deployments throughout its lifecycle with world-class production support services.
"In an increasingly connected world, new business models are being enabled by the cloud, mobile, APIs, social media and Internet of Things. Our pre-integrated, 100% open source cloud and enterprise middleware address this demand by empowering enterprises with a cohesive platform for harnessing these technologies," said Lindsey Anderson, WSO2 vice president of channel sales. "As a Premier Partner, Capgemini Italia brings a deeply experienced Solutions and Integration team at the forefront in delivering vertical industry solutions based on modern technologies and best practices. Working side-by-side with WSO2, Capgemini Italia will play a strategic role in addressing the tremendous worldwide demand for our products while adding significant value to our software in delivering on the demands of today's connected businesses."
Simplifying Architectures for Today's Demands
Capgemini Italia, a new Premier Partner within the WSO2 Solution Partner Program, has chosen the WSO2 service-oriented architecture (SOA) platform as a key component of its Adaptive Integration Framework (AIF). This solution framework, produced by the Capgemini Italia IT Business Unit Solutions & Integration, is based on open source software specifically designed to fulfill enterprise data and application integration needs, thus enabling a transformation of architectures toward the "connected world."
"Unprecedented challenges, concerning both QoS and operational costs, which our clients must deal with nowadays, are essentially caused by two factors: the increased demand for mobility services, with the consequent stress over network and application IT infrastructures, and the quick growth of the so called "New Internet," a fruition model of the Web where the use of apps is largely winning over traditional Web browsing," explains Antonio De Crescenzo, head of the Capgemini Italia BU Solutions & Integration. "This carries with it the need to strengthen, and at the same time, review and simplify the IT application architectures currently in place. Within the complex resulting IT scenario, our particular expertise in vertical markets, combined with the flexibility and scalability offered by the WSO2 platform, allow customers to apply the needed architectural simplifications in order to handle the explosion of data, services and devices."
Building on a Successful Collaboration
With a shared, innovative vision about architectures and business processes, WSO2 and Capgemini Italia have engaged in a strong and effective collaboration since 2013. Capgemini Italia S&I has been involved in projects and has supported the WSO2 platform throughout the Italian and International market, thus building a technological synergy with WSO2. This cooperation has led to the establishment of Capgemini Italia as a "WSO2 Global Competence Center" within the Capgemini Group.
Notable milestones of this collaboration are the engagements in:
RAI Pubblicità, a public company in charge of advertising management on TV, radio and Web channels on behalf of RAI – Radiotelevisione Italiana with the transformation of the advertising programming platform.
The Dutch Ministry of Infrastructure and Environment (IenM) where Capgemini Italia and Capgemini Nederland have joined the forces to expand a central access point for the exchange of government data between a variety of government organizations and citizens.
A non-governmental international agency with a SOA transformation program for integrating organization-wide services, operations and support.
About WSO2
WSO2 delivers on the promise of the connected business with the only completely integrated enterprise platform that enables businesses to build, integrate and manage their APIs, applications, and Web services on-premises, in the cloud, and on mobile devices. Leading enterprise customers worldwide rely on WSO2's award-winning 100% open source platform and its robust governance and DevOps functionality for their mission-critical applications. Today, these businesses represent nearly every sector: health, financial, retail, logistics, manufacturing, travel, technology, telecom and more. Visit https://wso2.com or check out the WSO2 community on the WSO2 Blog, Twitter, LinkedIn, Facebook, and FriendFeed..
Trademarks and registered trademarks are the properties of their respective owners.