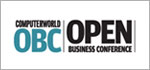 WSO2 CEO keynote will explore the facets of a true connected business; WSO2 VP will present technical session on an architecture for migrating to a connected business
Palo Alto, CA – April 29, 2014 – Together, the cloud, mobile, APIs, social media and open source are enabling enterprises to create new connections across employees, customers and partners. At Open Business Conference 2014, WSO2 executives will discuss how companies can realize the promise of the connected business to gain a competitive edge through new models of agility, business collaboration, monetization and efficiency:
Dr. Sanjiva Weerawarana, WSO2 founder, chairman and CEO, will explore the facets of a true connected business in his keynote presentation.
Asanka Abeysinghe, WSO2 vice president of solutions architecture, will deliver a session on building an architecture roadmap to support a connected business.
WSO2 is an Underwriter Sponsor of Open Business Conference 2014, which will run May 5-6, 2014 at the Palace Hotel in San Francisco, CA.
May 5: The Connected Business is Everywhere
In his keynote presentation, Dr. Sanjiva Weerawarana will review how connected businesses are everywhere, and organizations can no longer afford to have distinct silos of big data, cloud, mobile, API and social initiatives. He then will examine what it means to be a true connected business. Finally, Sanjiva will discuss how WSO2's 100% open source platform can help organizations to explore new business opportunities, playing into a connected future. The keynote will be held on Monday, May 5, from 9:15 a.m. – 9:45 a.m.
Dr. Sanjiva Weerawarana is the chairman, CEO and founder of WSO2. Prior to WSO2, Sanjiva worked for IBM Research, where he focused on innovations in middleware and emerging industry standards. An elected member of the Apache Software Foundation, Sanjiva has also been committed to open source development for many years. In 2003, Sanjiva founded the Lanka Software Foundation, a non-profit organization formed with the objective of promoting open source development by Sri Lankan developers. Additionally, he teaches and guides student projects part-time in the Computer Science & Engineering department of the University of Moratuwa.
May 6: Roadmap to a Connected Business
Asanka Abeysinghe will present a technical session on how to build an architecture roadmap that helps convert an organization's current IT infrastructure into a connected business. In his talk, Asanka will explain the important roles of middleware and next-generation middleware in providing the raw materials to build an integrated, secured, monitored and governed connected business. The session will be held on Tuesday, May 6, from 10:50 a.m. – 11:15 a.m.
Asanka Abeysinghe, WSO2 vice president of solutions architecture, provides consulting and training for enterprise IT architects and developers. He also focuses on the company's vertical market capabilities, including financial services. Asanka has more than a decade of experience implementing projects, from desktops and Web applications to highly scalable distributed systems and SOAs, mobile platforms, and business integration solutions.
Integrated Open Source Approach to the Connected Business
The WSO2 booth at Open Business Conference will have experts available to discuss the synergistic, integrated approach of WSO2's 100% open source platforms in addressing the demands of the connected business. They include the comprehensive WSO2 Carbon enterprise middleware platform, WSO2 Enterprise Mobility Manager, WSO2 App Factory cloud-enabled DevOps platform, WSO2 Private PaaS and WSO2 Public Cloud.
Significantly, all WSO2 solutions are built on the same fully componentized, OSGI-compliant code base. As a result, developers can easily deploy and customize any of these WSO2 products and the 175-plus components on which they are comprised, providing greater flexibility and agility to meet changing enterprise demands.
In addition to WSO2 cloud platforms, all WSO2 Carbon enterprise middleware products also are fully multitenant and cloud-ready. This means IT professionals can write an application once and deploy it on the same middleware on-premises, in the cloud, or in a hybrid environment.
About Open Business Conference
Open Business Conference is ground zero for learning how to put data to use while networking with the people who are building and deploying the latest in enabling technologies and solutions. Produced by Computerworld, the conference focuses on the areas of Open Cloud, Open Mobile, Open Enterprise, Open Legal and the Open Future, as open source has become ubiquitous in the enterprise and in the business layer. For more information or to register, visit http://www.openbizconf.com/ehome/index.php?eventid=77392.
About WSO2
WSO2 is the only company that provides a completely integrated enterprise application platform for enabling a business to build and connect APIs, applications, Web services, iPaaS, PaaS, software as a service and legacy connections without having to write code; using big data and mobile; and fostering reuse through a social enterprise store. Only with WSO2 can enterprises use a family of governed secure solutions built on the same code base to extend their ecosystems across the cloud and on mobile devices to employees, customers and partners in anyway they like. Hundreds of leading enterprise customers across every sector—health, financial, retail, logistics, manufacturing, travel, technology, telecom and more—in every region of the world rely on WSO2's award-winning, 100% open source platform for their mission-critical applications. To learn more, visit https://wso2.com or check out the WSO2 community on the WSO2 Blog, Twitter, LinkedIn, Facebook, and FriendFeed..
Trademarks and registered trademarks are the properties of their respective owners
.