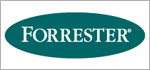 Session will examine how enterprises can enable a true connected business ecosystem by taking advantage of APIs, the cloud, mobile, and Internet of Things technologies
Palo Alto, CA – June 12, 2014 – The cloud, mobile, APIs, and Internet of Things (IoT) are enabling enterprises to create new connections across employees, customers and partners. Today, at Forrester's Forum For Technology Management Leaders 2014, WSO2 Co-founder and CTO Paul Fremantle will discuss the technology strategies companies can implement to realize the promise of a connected business.
WSO2 is a Platinum Sponsor at Forrester's Forum For Technology Management Leaders 2014, which will run June 12–13, 2014 at Park Plaza Westminster Bridge in London.
Enabling the Connected Business
Paul's session, "The Evolution of a Connected Business," is part of the "Develop Digital Solutions Track." It will run from 2:15–2:45 p.m. on Thursday, June 12, 2014.
In his session, Paul will discuss the integrated, adaptive, accessible and collaborative environment required to build a connected business, as well as how APIs, cloud computing, and mobile create and enhance new business models. He will begin by examining the importance of APIs to organizations and how cloud development can be transformative. He then will examine how to integrate mobile and IoT technologies to create a connected business.
Additionally, Paul will review use cases of organizations that have connected their digital ecosystems—examining how and why they took the approaches that they did, as well as the results they have achieved.
About the Presenter
Paul Fremantle is WSO2 co-founder and CTO, and he is co-chair of the OASIS Web Services Reliable eXchange Technical Committee. Recognized by InfoWorld as a Top 25 CTO, he was responsible for simultaneously leading development of the groundbreaking WSO2 Enterprise Service Bus and Apache Synapse ESB. Paul has played a pioneering role in open source development, beginning with the original Apache SOAP project and his role in leading IBM's involvement in the Axis C/C++ project. Paul is a member of the Apache Software Foundation, and he previously served as vice president of the Apache Synapse project.
Integrated Open Source Approach to the Connected Business
The WSO2 booth at Forrester's Forum For Technology Management Leaders will have experts available to discuss the synergistic, integrated approach of WSO2's 100% open source platforms in addressing the demands of the connected business. They include the comprehensive WSO2 Carbon enterprise middleware platform, WSO2 Enterprise Mobility Manager, WSO2 App Factory cloud-enabled DevOps platform, WSO2 Private PaaS and WSO2 Public Cloud.
Significantly, all WSO2 solutions are built on the same fully componentized, OSGI-compliant code base. As a result, developers can easily deploy and customize any of these WSO2 products and the 175-plus components on which they are comprised, providing greater flexibility and agility to meet changing enterprise demands.
In addition to WSO2 cloud platforms, all WSO2 Carbon enterprise middleware products also are fully multitenant and cloud-ready. This means IT professionals can write an application once and deploy it on the same middleware on-premises, in the cloud, or in a hybrid environment.
About Forrester's Forum For Technology Management Leaders
Within the past decade, tech-savvy customers and digital-native startups have changed the competitive landscape. Forrester's Forum For Technology Management Leaders will provide technology management leaders the direction they need to help their firms transform into thriving digital businesses that embrace change as a matter of routine. Attendees will learn how to turn emerging technologies and processes into quick-win, high-impact digital capabilities—and in the process, reinvent their business technology organizations. Visit http://www.forrester.com/Forresters+Forum+For+Technology+Management+Leaders/-/E-EVE6379 for more information.
About WSO2
WSO2 is the only company that provides a completely integrated enterprise application platform for enabling a business to build and connect APIs, applications, Web services, iPaaS, PaaS, software as a service and legacy connections without having to write code; using big data and mobile; and fostering reuse through a social enterprise store. Only with WSO2 can enterprises use a family of governed secure solutions built on the same code base to extend their ecosystems across the cloud and on mobile devices to employees, customers and partners in anyway they like. Hundreds of leading enterprise customers across every sector—health, financial, retail, logistics, manufacturing, travel, technology, telecom and more—in every region of the world rely on WSO2's award-winning, 100% open source platform for their mission-critical applications. To learn more, visit https://wso2.com or check out the WSO2 community on the WSO2 Blog, Twitter, LinkedIn, Facebook, and FriendFeed..
Trademarks and registered trademarks are the properties of their respective owners.