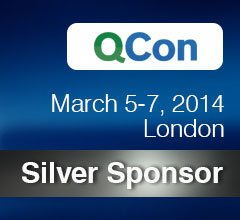 Technical session will examine use cases and best practices for applying open source approaches to APIs and PaaS in order to build a connected digital ecosystem
Palo Alto, CA – March 3, 2014 – Working in concert, APIs and the cloud are enabling companies to extend business and technical functions within an organization and across divisions, customers and partners. WSO2 Co-founder and CTO Paul Fremantle will examine open source approaches to implementing these technologies at QCon London 2014 in a session entitled "Connecting Everything – APIs & PaaS." WSO2 is a Silver Sponsor of QCon London, which will run March 5-7, 2014 at the Queen Elizabeth II Conference Centre.
A Connected Digital Ecosystem with APIs and PaaS
APIs serve to abstract business and technical functions and make them reusable, within organizations, across divisions and between companies. Platform as a service (PaaS) complements this by providing an abstraction from the deployment. In this session, Paul will explore open source approaches to APIs and PaaS and how these technologies can be applied to create new digital connected ecosystems. Additionally, Paul will review use cases of organizations that have implemented digital connected ecosystems—examining how and why they took the approaches that they did, as well as the results they have achieved.
The session will be held 1:20–2:10 p.m. on Thursday, March 6, 2014, as part of the Solutions Track Thursday 2, in the Abbey Room at the Queen Elizabeth II Conference Centre.
About the Presenter
Paul Fremantle is WSO2 co-founder and CTO, and he is co-chair of the OASIS Web Services Reliable eXchange Technical Committee. Recognized by InfoWorld as a Top 25 CTO, he was responsible for simultaneously leading development of the groundbreaking WSO2 Enterprise Service Bus and Apache Synapse ESB. Paul has played a pioneering role in open source development, beginning with the original Apache SOAP project and his role in leading IBM's involvement in the Axis C/C++ project. Paul is a member of the Apache Software Foundation, and he previously served as vice president of the Apache Synapse project.
About QCon London 2014
Celebrating its eighth year, QCon London 2014 is designed for technical team leads, architects, engineering directors, and project managers who influence innovation in their teams. The international software development conference highlights the most important development topics driving innovation today, bringing practitioners together with attendees who influence innovation in their teams. The event is staged in an intimate environment that promotes high quality learning, peer sharing, fun and inspiration. For more information, visit http://qconlondon.com/london-2014.
About WSO2
WSO2 is the only company that provides a completely integrated enterprise application platform for enabling a business to build and connect APIs, applications, Web services, iPaaS, PaaS, software as a service and legacy connections without having to write code; using big data and mobile; and fostering reuse through a social enterprise store. Only with WSO2 can enterprises use a family of governed secure solutions built on the same code base to extend their ecosystems across the cloud and on mobile devices to employees, customers and partners in anyway they like. Hundreds of leading enterprise customers across every sector—health, financial, retail, logistics, manufacturing, travel, technology, telecom and more—in every region of the world rely on WSO2's award-winning, 100% open source platform for their mission-critical applications. To learn more, visit https://wso2.com or check out the WSO2 community on the WSO2 Blog, Twitter, LinkedIn, Facebook, and FriendFeed..