Palo Alto, CA – December 10, 2013 – Sensors, the Web, cloud and mobile computing are driving unprecedented volumes of information. In response, enterprises are adopting big data strategies to transform that information into insights about their business. WSO2 supports this demand with the latest releases of two products: WSO2 Complex Event Processor (WSO2 CEP) 3.0 and WSO2 Business Activity Monitor (WSO2 BAM) 2.4.
WSO2 CEP 3.0 and WSO2 BAM 2.4 complement database management systems in addressing the big data challenge. Working together, the integrated WSO2 products provide the industry's first solution for enabling data streams to be analyzed simultaneously in real-time (with WSO2 CEP 3.0) and via batch processing (with WSO2 BAM 2.4). As a result, enterprises have unprecedented flexibility for analyzing the vast streams of events coming into the organization to gain valuable insights into their business.
With today's launch:
WSO2 CEP 3.0, which is designed for real-time complex event processing, has been significantly re-architected. It also offers several new features within the WSO2 Siddhi CEP engine that increase performance up to 50%, expands event management functionality, and adds dashboard integration via WSO2 User Engagement Server for real-time event analysis and visualization.
WSO2 BAM 2.4 which supports batch analysis, adds Apache Cassandra indexing support to facilitate searches. It also offers a new activity dashboard for viewing events in real-time, and incremental processing and timestamp data type support through Apache Cassandra and Apache Hive.
WSO2 CEP 3.0 and WSO2 BAM 2.4 inherit new capabilities from Version 4.2 of the WSO2 Carbon core framework on which both products are built, including support for Hazelcast, multi-profile deployment, and synchronous deployment of artifacts.
As with all WSO2 Carbon middleware products, WSO2 CEP 3.0 and WSO2 BAM 2.4 are fully multitenant and cloud-ready. This means IT professionals can write an application once and deploy it on the same middleware on-premises, in the cloud, or in a hybrid environment.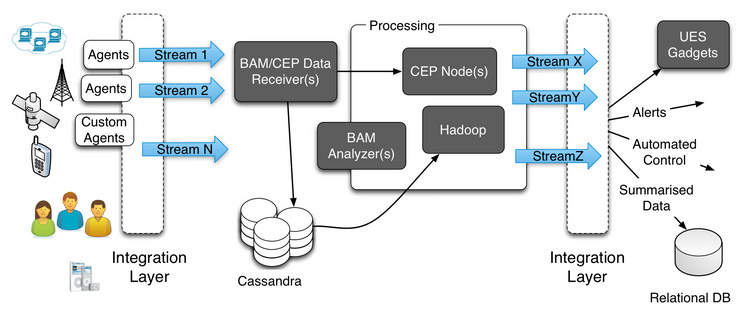 The Bigger Picture Around Big Data
"Big data investments in 2013 continue to rise, with 64% of organizations investing or planning to invest in big data technology compared with 58% last year. Investments are led by media and communications, banking and services. Planned investments the next two years are highest for transportation, healthcare and insurance. Fewer than 8% of respondents have deployed," observes Gartner in the report, Survey Analysis: Big Data Adoption in 2013 Shows Substance Behind the Hype1, which was published September 12, 2013. The report further notes, "Companies either are or will be looking at a variety of technologies to extract value from their big data projects, basing choices on the types of data processed, responsiveness and timeliness requirements, and analytical workload."
"IT leaders and business teams who separate business signals from transaction noise can transform their business operations into a proactive, collaborative model that increases customer-centric interaction, streamlines partner coordination, and enhances revenue growth," said Dr. Sanjiva Weerawarana, WSO2 founder and CEO. "Together, our WSO2 CEP 3.0 and WSO2 BAM 2.4 products uniquely complement transactional databases by providing the only solution to simultaneously analyze business activity across multiple data formats and message channels in real-time for timely operational management and via batch for effective business planning."
WSO2 Complex Event Processor 3.0
WSO2 CEP provides complex event processing and event stream processing to enable solutions that require analysis over time, such as fraud detection, algorithmic trading analysis, sales, shipping or order status, and other business events. Using WSO2 CEP, developers and architects can easily create queries and analysis of real-time event streams to drive real-time business decisions based on time-based events.
WSO2 CEP 3.0 builds on the performance capabilities introduced in 2012 with version 2.0, which included a new WSO2 Siddhi CEP engine that increased performance by up to 10x and support for the high-performance Apache Thrift transport. The newest version has been rewritten to reduce the tight coupling between product components and enable their use in other WSO2 middleware products. Other major enhancements have been made to the CEP engine and WSO2 CEP's event management functionality.
New CEP Engine Capabilities
Version 3.0 of WSO2 CEP adds several new capabilities to WSO2 Siddhi, which have increased performance by up to 50% over the previous release. The CEP engine now supports dynamic query partitioning based on incoming events, which increases performance. It also lets users store, retrieve and process events in a database table-like structure, with the option to use "in-memory table" or "relational table" style event tables. A new event adaptor manager in WSO2 Siddhi for broker manager-related configurations makes it easier to create event adaptors and write custom event adaptors quickly. Other enhancements to the CEP engine, include:
Output rating limiting, which empowers users to decide when WSO2 CEP needs to trigger events out.
Three new built-in functions: Coalesce, to coalesce attributes and get the value from an attribute that has the available data; Convert, to convert an event attribute from one data type to another; and IsMatch, to compare an event attribute to a regular expression and see if there is a match.
An external time window, which enables the CEP engine to consider timestamps from and external source, not just the host machine clock, for time-related processing.
Support for WSO2 Siddhi stats calculation, so users can monitor event statistics (incoming count, processed count etc.) within the CEP engine, itself.
Support for event tracing at multiple stages of an event flow by providing information on how events get changed in each and every component.
Default timestamp and attribute-type converters, which let users convert an event attribute data type to another without having to write an extension.
Ability to retrieve resources/properties from the registry, allowing users to set the resource location in WSO2 Siddhi queries, so the CEP engine can get the resource from the registry dynamically at runtime.
Enhanced Event Management
WSO2 CEP 3.0 also offers several enhancements to event management. A new event builder for mapping incoming events and a new event formatter for mapping outgoing events both allow users to change the event format as required to other formats, such as XML, JSON, TXT or MAP, as well as filter attributes of the event. Additionally, the event formatter has been integrated with the registry, so users can define the mapping templates in the registry and can use/reuse them dynamically in different execution plans. Support for multiple input event adaptors and output event adaptors gives users the option to select the best approach for each use case. Finally, with WSO2 CEP 3.0, statistics about events can be taken for the whole server, for an execution plan or per a deployment artifact (e.g., input adaptors, event builders, execution plans, event formatters, and output adaptors).
Other new features in WSO2 CEP 3.0 include:
A sample framework for WSO2 CEP, which allows users to start the product with the necessary configurations—without having to configure the software manually.
upport for Java Message Service (JMS) Queue in addition to the previously supported JMS Topic to help support durable subscriptions.
Support for the popular JSON format, particularly for mobile applications, enabling XML/JSON input child elements to be processed as separate input messages.
Dashboard integration with WSO2 User Engagement Server, which enables users to rapidly create visually appealing and engaging Web components for presenting data, such as dashboards, microsites and gadgets, to facilitate real-time event analysis and visualization.
Business Activity Monitor 2.4
WSO2 Business Activity Monitor 2.4 provides just-in-time visibility into distributed complex systems and gives enterprises a powerful framework for tracking and analyzing big data related to such areas as click-streams, API usage, fraud detection, and software log analysis in a cloud environment, to name a few.
WSO2 BAM utilizes Apache Cassandra to offer scalable event storage using column families for each event type. Additionally, through Apache Hadoop, it provides SQL-like flexibility for writing analysis algorithms via Apache Hive. Analysis results can be stored flexibly in Apache Cassandra, a relational database, or file system. Meanwhile load balancing offers horizontal scaling, and a low-latency API enables WSO2 BAM 2.0 to receive large volumes events over various transports, including Apache Thrift and REST/HTTP.
With Version 2.4, WSO2 BAM adds several new capabilities, including:
Ability to set up a message tracer filter to a Web application, so a user can intercept messages from any Web application and send them to WSO2 BAM to be analyzed later.
Apache Cassandra data indexing support, enabling users to make searches more efficient by creating either Cassandra secondary indexes or WSO2's own custom indexes for defined indexed properties and data.
Support for searching on defined indexed properties enables an event search capability to be built on top of the data indexing feature
A new activity monitoring dashboard works with the indexed event search, so results can be now viewed in real time, without additional batch operations.
The Hive Timestamp data type support has been added to the Cassandra data handler when accessing Cassandra data stores.
Incremental analysis with Cassandra and Hive allows for only new data to be analyzed, improving resource efficiency.
New Capabilities Inherited With WSO2 Carbon 4.2
WSO2 CEP 3.0 and WSO2 BAM 2.4 are part of WSO2 Carbon, the industry's first fully componentized middleware platform for creating, running and managing composite applications and Web services within a service-oriented architecture (SOA) and cloud environment. Built on the OSGi specification, WSO2 Carbon lets developers easily deploy and customize any WSO2 Carbon-based middleware products, and the 175-plus components on which they are comprised, providing greater flexibility and agility to meet changing enterprise demands.
The cloud-enabled, fully multitenant WSO2 Carbon core framework provides all WSO2 middleware products with a consistent set of enterprise-class management, security, clustering, logging, statistics, tracing, and other capabilities. As a result, WSO2 CEP 3.0 and WSO2 BAM 2.4 inherit the capabilities that were launched with version 4.2 of the WSO2 Carbon core in October 2013. These include:
Hazelcast Support – featuring new distributed caching and clustering implementations that are based on Hazelcast, the open source in-memory data grid that provides a clustering and highly scalable data distribution platform for Java.
Multi-profile Deployment Support – helping IT organizations improve their resource utilization by selecting a "preferred profile," which runs only the features specific to that profile.
Synchronous Deployment of Artifacts – ensuring that if a Carbon Application (CApp) is deployed successfully, the relevant artifacts are guaranteed to have deployed successfully as well.
For more detail, on the WSO2 Carbon 4.2 release, visit https://wso2.com/about/news/wso2-carbon-wso2-api-manager-and-wso2-governance-registry-increase-speed-scalability-and-high-availability-through-hazelcast.
Availability and Support
WSO2 Complex Event Processor 3.0 and WSO2 Business Activity Monitor 2.4 are in production today. They are available as software downloads that can run directly on servers or as WSO2 Cloud Virtual Machines running on the Amazon Elastic Computing Cloud (EC2), Linux Kernel Virtual Machine (KVM), and VMware ESX. They can operate as part of a private platform as a service (PaaS) by plugging into WSO2 Private PaaS software, and they are available as hosted services on the WSO2 Cloud public PaaS. As fully open source solutions released under the Apache License 2.0, they do not carry any licensing fees.
WSO2 CEP 3.0 and WSO2 BAM 2.4 are backed by a world-class technical team in which the experts that helped create the software provide support, leading to direct and immediate access to the people with in-depth knowledge of the middleware. In addition to production support, WSO2 service and support options include evaluation support, development support, and special QuickStartSM consulting programs.
About WSO2
WSO2 is the lean enterprise middleware company. It delivers the only complete open source enterprise SOA middleware stack purpose-built as an integrated platform to support today's heterogeneous enterprise environments—internally and in the cloud. WSO2's service and support team is led by technical experts who have proven success in deploying enterprise SOAs and contribute to the technology standards that enable them. For more information, visit https://wso2.com or check out the WSO2 community on the WSO2 Blog, Twitter, LinkedIn, Facebook, and FriendFeed..
Trademarks and registered trademarks are the properties of their respective owners.
1Gartner, "Survey Analysis: Big Data Adoption in 2013 Shows Substance Behind the Hype," by Lisa Kart, Nick Heudecker, and Frank Buytendijk, September 12, 2013.