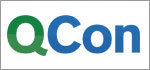 QCon technical session will examine enterprise integration use cases to extract best practices; LJC meetup will explore effective approaches to building microservices
Mountain View, CA – February 29, 2016 – Technology has evolved over the last ten years and will continue to do so. Even enterprise integration isn't immune. To be sure, the core concept will not drastically change any time soon. However, new technical and architectural advances mean that systems built today are unlikely to last for decades unless they can adapt. At QCon London 2016, WSO2 will present a session on how enterprises can determine the form of iterative improvement that best suits their business and prepares them for the future.
WSO2 is a Silver Sponsor of QCon London, which will run March 7-9, 2016 at the Queen Elizabeth II Conference Centre in London.
The Future of Integration
The session, "Enterprise Integration: Past, Present and Future," is part of Sponsored Solution Track II and will be held 4:10 – 5:00 p.m. on Tuesday March 8, 2016 in the Abbey room, 4th Floor.
Presenter Senaka Fernando, a WSO2 solutions architect, will examine the fine line between innovation and stagnation where enterprises can spend the least to gain the most. He then will explore case studies from various industries to understand past and present enterprise integration approaches, as well as their strategies for adapting to future integration requirements. Additionally, Senaka will review how the companies' various approaches succeeded and failed. Extracting from these experiences, he will conclude by explaining how to find which iterative improvements best suit an enterprise and promote innovation.
LJC Meetup Session on Microservices
While in London, Senaka also will present a talk for the London Java Community Meetup on "Developing Microservices for Cloud Using Java." In his presentation, Senaka will examine some of the largest businesses in UK that build industry-leading applications in the cloud using microservices. He also will explain how to develop microservices in Java and share insights into common microservice architecture patterns. Additionally, Senaka will discuss how to leverage Java Enterprise Edition (Java EE) 8 when building microservices. The presentation will be held 6:15 - 7:30 p.m. on Wednesday March 9, 2016 at Skills Matter CodeNode, London.
About the Presenter
Senaka Fernando, WSO2 solutions architect, has provided technology consulting on customer engagements, helping to successfully implement governance, enterprise application integration, SAP integration, and on-premises portal solutions. He is an elected member of the Apache Software Foundation (ASF) and also a Project Management Committee (PMC) member and committer for a number of projects, which currently include Apache Web Services, Axis2, and several Apache incubator projects. Additionally, Senaka is a member of the OASIS S-RAMP, WEMI, and TOSCA technical committees.
About QCon London 2016
Celebrating its 10th year, QCon London 2016 is designed for technical team leads, architects, engineering directors, and project managers who influence innovation in their teams. The international software development conference highlights the most important development topics driving innovation today, bringing practitioners together with attendees who influence innovation in their teams. The event is staged in an intimate environment that promotes high quality learning, peer sharing, fun and inspiration. For more information, visit https://qconlondon.com.
About WSO2
WSO2 empowers enterprises to build connected businesses and accelerate their pace of innovation with the industry's only lean, fully integrated, and 100% open source enterprise middleware platform. Using WSO2's platform, enterprises have all the functionality to build, integrate, manage, secure and analyze their APIs, applications, Web services, and microservices—on-premises, in the cloud, on mobile devices, and across the Internet of Things. Leading enterprise customers worldwide rely on WSO2's platform and its robust performance and governance for their mission-critical applications. Today, these businesses represent nearly every sector: health, financial, retail, logistics, manufacturing, travel, technology, telecom and more. Visit https://wso2.com to learn more, or check out the WSO2 community on the WSO2 Blog, Twitter, LinkedIn and Facebook.
Trademarks and registered trademarks are the properties of their respective owners.