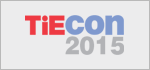 Panel will examine the strengths and weaknesses of different platforms and protocols along with development strategies for building IoT products
Mountain View, CA – May 12, 2015 – The promise of the Internet of Things (IoT) may be clear. Yet too often, companies' roadmaps are obscured by an increasingly complex web of platforms and protocols for building and connecting IoT products. At TiEcon 2015, WSO2 Vice President of Enterprise Evangelism John Mathon, will join a panel of experts in helping to cut through the confusion in the session, "Battle of Platforms & Protocols."
WSO2 is a Gold Sponsor of TiEcon 2015, which will run May 15-16, 2015 at the Santa Clara Convention Center in Santa Clara, California.
Comparing Platforms and Protocols for the Internet of Things
The session, "Battle of Platforms & Protocols," will run 3:00 – 3:45 p.m. on Friday, May 15, 2015 in Hall A1 as part of the IoT track.
Together, the panelists will examine the different platforms and protocols available to build IoT products, their strengths and weaknesses, and whether they can co-exist with each other. Additionally, the speakers will discuss how to create IoT systems that span multiple platforms and protocols.
Moderating the panel will be Gene Wang, Power People CEO and co-founder, who will be joined by panelists:
John Mathon, vice president of enterprise evangelism, WSO2
Kyle Roche, general manager of IoT, Amazon Web Services
Marc Naddell, vice president of MediaTek Labs, MediaTek
Geetha Dabir, vice president in the Internet of Things Group and general manager of application ready platforms, Intel Corporation
Dr. Manas Saksena, senior director of technology and marketing, Platform Solutions Group, Marvell Semiconductor
About WSO2 Panelist John Mathon
John Mathon is vice president of enterprise evangelism at WSO2. As a founder of TIBCO software and inventor of the publish/subscribe paradigm, John helped establish TIBCO as the leading middleware provider in the world. He has spent more than 20 years working on enterprise software for corporations worldwide. Prior to joining WSO2 John started other companies, created numerous patents and has been a visionary for enterprise software. Besides TIBCO, he started Slam Dunk Networks now known as Cloud Prime, Mathon Systems in the DLP space, and has helped CA Technologies move to the cloud and SaaS.
Integrated Open Source Approach to the Connected Business
The WSO2 booth at TiEcon 2015 will have experts available to discuss the synergistic, integrated approach of WSO2's 100% open source platforms in addressing the technology demands of competing in a connected world, including the cloud, API management, big data analytics, the management and security of mobile and Internet of Things devices, and DevOps. Among the WSO2 solutions are products from the comprehensive WSO2 Carbon enterprise middleware platform—including WSO2 API Manager, WSO2 Enterprise Mobility Manager, WSO2 Private PaaS, the WSO2 App Factory cloud-enabled DevOps platform, and WSO2 API Cloud.
Significantly, all WSO2 solutions are built on the same fully componentized, OSGI-compliant code base. As a result, developers can easily deploy and customize any of these WSO2 products and the 175-plus components on which they are comprised, providing greater flexibility and agility to meet changing enterprise demands. In addition to WSO2 cloud platforms, all WSO2 Carbon enterprise middleware products also are fully multitenant and cloud-ready. This means IT professionals can write an application once and deploy it on the same middleware on-premises, in the cloud, or in a hybrid environment.
About TiEcon 2015
TiEcon is the largest professional and networking conference for entrepreneurs, where wealth connects with technology stealth to create an energizing environment for start-ups to take off. TiEcon brings together Silicon Valley's diverse, dynamic, and expert ecosystem to ignite and display disruptive technology innovation. For more information, visit http://tiecon.org.
About WSO2
WSO2 delivers on the promise of the connected business with the only completely integrated enterprise platform that enables businesses to build, integrate and manage their APIs, applications, and Web services on-premises, in the cloud, and on mobile devices. Leading enterprise customers worldwide rely on WSO2's award-winning 100% open source platform and its robust governance and DevOps functionality for their mission-critical applications. Today, these businesses represent nearly every sector: health, financial, retail, logistics, manufacturing, travel, technology, telecom and more. Visit https://wso2.com or check out the WSO2 community on the WSO2 Blog, Twitter, LinkedIn and Facebook..
Trademarks and registered trademarks are the properties of their respective owners.