Soccer game use case will illustrate best practices for analyzing big data in batch and real-time using WSO2 CEP, WSO2 BAM, and MapReduce-based technologies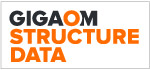 Palo Alto, CA – March 12, 2014 – Improving team performance requires establishing a feedback loop between activity and action. With Internet of Things (IoT) devices, streaming capture, temporal processing, and big data analytics, teams can understand how actions convert into competitive wins. WSO2 Vice President of Platform Evangelism Chris Haddad will present a use case that illustrates how enterprises can improve their business performance during a workshop at Gigaom Structure Data 2014.
WSO2 is a Primetime Plus Sponsor of the Gigaom Structure Data conference, which will run March 19–20, 2014, at Pier Sixty Chelsea Piers in New York, NY.
Gaining a Competitive Edge: Handling Big Data for a Soccer Match
The conference workshop will examine how WSO2 bridges real-world activity, captured by IoT devices, with spatial and temporal processing to understand how activity impacts performance. Based on WSO2's participation at the ACM International Conference on Distributed Event-Based Systems (DEBS) 2013 Grand Challenge, Chris will describe how WSO2 engineers captured soccer match activity data through embedded sensors, analyzed streaming real-time data with WSO2 Complex Event Processor (WSO2 CEP), and triggered visualizations at event throughputs in excess of 100,000 events per second.
Additionally, the session will review how WSO2 extended its soccer analysis solution with WSO2 Business Activity Monitor (WSO2 BAM). WSO2 BAM was used to provide detailed batch processing-based analysis using Map-Reduce technologies that complemented the instant analytics delivered by WSO2 CEP.
The session, "WSO2 Sponsor Workshop: Tracking a Soccer Game with Big Data," will be held 3:45–4:30 p.m. on Wednesday, March 19, 2014, in the Oceanic Suite at Pier Sixty Chelsea Piers.
About the Presenter
Chris Haddad, WSO2 vice president of platform evangelism, works closely with developers, architects, and C-level executives to increase WSO2 technology adoption, improve the middleware platform, and maximize customer value. Prior to joining WSO2, Chris led research teams as a research vice president at the Burton Group and Gartner advising Fortune 500 enterprise organizations and technology infrastructure vendors.
Integrated Approach to Analyzing Big Data
The WSO2 booth at Gigaom Structure Data will have experts in data analytics and the cloud available to discuss how WSO2 technology is enabling both streaming and batch analysis of big data with WSO2 Complex Event Processor and WSO2 Business Activity Monitor.
WSO2 CEP and WSO2 complement database management systems in addressing the big data challenge. Working together, the integrated WSO2 products provide the industry's first solution for enabling data streams to be analyzed simultaneously in real-time (with WSO2 CEP) and via batch processing (with WSO2 BAM). As a result, enterprises have unprecedented flexibility for analyzing the vast streams of events coming into the organization to gain valuable insights into their business.
As with all WSO2 Carbon enterprise middleware products, WSO2 CEP and WSO2 BAM are fully multitenant and cloud-ready. This means IT professionals can write an application once and deploy it on the same middleware on-premises, in the cloud, or in a hybrid environment.
About Gigaom Structure Data 2014
Gigaom Structure Data brings together over 900 big data practitioners, technologists and executives examining how big data can drive business success. The event will explore how large companies are leveraging big data for the greater good, the line between privacy, profit and protection, and the methods companies are using to capture, store, analyze and serve the data that's drives their businesses. For more information, visit http://events.gigaom.com/structuredata-2014.
About WSO2
WSO2 is the only company that provides a completely integrated enterprise application platform for enabling a business to build and connect APIs, applications, Web services, iPaaS, PaaS, software as a service and legacy connections without having to write code; using big data and mobile; and fostering reuse through a social enterprise store. Only with WSO2 can enterprises use a family of governed secure solutions built on the same code base to extend their ecosystems across the cloud and on mobile devices to employees, customers and partners in anyway they like. Hundreds of leading enterprise customers across every sector—health, financial, retail, logistics, manufacturing, travel, technology, telecom and more—in every region of the world rely on WSO2's award-winning, 100% open source platform for their mission-critical applications. To learn more, visit https://wso2.com or check out the WSO2 community on the WSO2 Blog, Twitter, LinkedIn, Facebook, and FriendFeed..