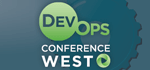 Session will examine how teams can overcome DevOps adoption challenges and accelerate application delivery by moving design, development, and continuous delivery to a PaaS
Mountain View, CA – June 10, 2015 – Organizations seek to create systems developed in a DevOps framework. However, people, processes and tools often hinder an IT team's ability to comply with security policies, streamline collaboration, and rapidly deliver business value. At DevOps Conference West 2015, WSO2 Vice President of Platform Evangelism Chris Haddad will explore how to overcome these challenges by moving to a platform as a service (PaaS) environment. The conference runs June 7-12, 2015 at Caesars Palace in Las Vegas, NV.
Overcoming DevOps Adoption Barriers
Chris will present, "Overcome DevOps Adoption Barriers to Accelerate Software Delivery," on Wednesday, June 10, 2015 at 4:15 p.m. – 5:15 p.m. as part of the "DevOps & The Cloud" track. In his session, he will examine how merging DevOps activities, polyglot PaaS capabilities, and governance practices can help enterprises to overcome organizational barriers, create better software, and accelerate software delivery.
Chris will begin with an overview of how moving design, development, and continuous delivery into a PaaS environment can help organizations and teams more readily adopt DevOps practices, integrate governance compliance frameworks, and follow agile methodologies with distributed teams. He then will examine how to change software culture by employing an environment and tooling that promote collaboration, rapid iterations, and painless compliance. Additionally, Chris will discuss the tools enterprises need, along with a step-by-step approach for developing robust and secure software within a DevOps framework.
About the Presenter
Chris Haddad is vice president of platform evangelism at WSO2. He works closely with developers, architects, and C-level executives, as well as WSO2's engineering team, to increase adoption of WSO2 open source technology, improve the middleware platform, and maximize customer value. Prior to joining WSO2, Chris led research teams as a research vice president at the Burton Group and Gartner advising Fortune 500 enterprise organizations and technology infrastructure vendors on adoption strategies, architecture, product selection, governance, and organizational alignment.
About DevOps Conference West
In its inaugural year, DevOps Conference West offers attendees the latest in methods, processes, technology and tools that are being used to integrate agile development with systems operations and understand how DevOps can reduce the time from idea inception to user availability of products and services. The conference is organized by SQE/TechWell, which delivers training, support, research, and publications to software managers, developers, test professionals, and quality engineers worldwide, and also produces several of the most respected conferences in the software testing and development industry including the STAR, Mobile Dev + Test, Better Software, Agile Development, and DevOps conference series. For more information, visit http://devopswest.techwell.com.
About WSO2
WSO2 delivers on the promise of the connected business with the only completely integrated enterprise platform that enables businesses to build, integrate and manage their APIs, applications, and Web services on-premises, in the cloud, and on mobile devices. Leading enterprise customers worldwide rely on WSO2's award-winning 100% open source platform and its robust governance and DevOps functionality for their mission-critical applications. Today, these businesses represent nearly every sector: health, financial, retail, logistics, manufacturing, travel, technology, telecom and more. Visit https://wso2.com or check out the WSO2 community on the WSO2 Blog, Twitter, LinkedIn and Facebook..
Trademarks and registered trademarks are the properties of their respective owners.