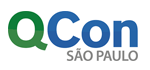 Event marks the expansion of WSO2's Brazil operations led by the company's new country manager; provides opportunity to hear from WSO2 technology executives and WSO2's Brazil partners
Mountain View, CA – March 23, 2015 – In an increasingly connected world, enterprises are extending processes, workflows and data to enhance their interaction and collaboration across internal business groups, customers and partners. At QCon São Paulo 2015, WSO2 will lead the Connected World conference track, which will explore architectural best practices for API management, the cloud, Internet of Things (IoT), and security in a connected world.
WSO2 is a Hybrid Diamond Sponsor of QCon São Paulo, which will run March 25-27, 2015 at the WTC Events Center in São Paulo, Brazil. The event marks the expansion of WSO2's operations in Brazil with the appointment of its first country manager, extending the company's commitment to serving enterprises across Brazil and Latin America.
The Connected World track will feature WSO2 Vice President and Country Manager for Brazil Edgar Silva along with top technology executives from WSO2. Joining them will be executives from WSO2's Brazil partners: CondominioDeSolucoes (CDS), LightHouse Tecnologia e Sistemas, and Livraria Saraiva eCommerce.
Additionally, WSO2 will host an invitation-only conference after-party, "Connected World Pub," at CLUB A, which is located in the WTC Events Center, on Thursday, March 26, 2015 at 7:30 p.m. Attendees who wish to meet WSO2 executives or learn more about the after-party can do so at the WSO2 QCon São Paulo Booth #16.
March 25: Handling Big Data for a Soccer Match
In addition to leading the Connected World track, WSO2 will also participate in the QCon São Paulo Architectures You Always Wanted to Know track. There WSO2 Vice President of Solutions Architecture Asanka Abeysinghe will present the session, "Tracking a Soccer Game with Big Data," which will be held 3:35–4:25 p.m. on Wednesday, March 25, 2015.
In this talk, Asanka will examine a complex event processing (CEP) use case from WSO2's participation at the ACM International Conference on Distributed Event-Based Systems (DEBS) 2013 Grand Challenge. He will discuss how WSO2 engineers tracked and processed data from a soccer match using WSO2 Complex Event Processor and MapReduce-based technologies, achieving throughput in excess of 100,000 events per second. He also will review how the team used WSO2 Business Activity Monitor (BAM) to provide detailed batch processing-based analysis of the soccer data that complemented the instant analytics delivered by WSO2 CEP.
March 26: Connected World Conference Track
WSO2 will lead the Connected World Track at QCon São Paulo, which encompasses four sessions and a panel discussion on Thursday, March 26, 2015.
Pattern-driven Enterprise Architecture – WSO2 Vice President of Solutions Architecture Asanka Abeysinghe will explore common patterns for a service-oriented architecture (SOA), Web-oriented architecture (WOA), event-driven architecture (EDA), and Internet of Things. He also will illustrate the blueprints of patterns for converting a business architecture to a solution architecture, and share best practices for adopting patterns during the software development lifecycle and software delivery.
Securing the Insecure – WSO2 Director of Security Architecture Prabath Siriwardena will examine patterns and best practices for mitigating undesirable behaviors to achieve computing "correctness." He also will dive into the three security properties that can lead into undesirable behaviors: confidentiality, integrity and availability.
Creating an API-centric Enterprise – WSO2 Solutions Engineer Chathura Kulasinghe will examine how to optimize API management. He will begin by demonstrating how to expose a data source as an API, as well as secure and publish that API. Lakmal then will explain how to test the API online with popular tools, such as the SoapUI open-source Web service testing application.
Next-Gen Apps With IoT and Cloud – WSO2 Director of Security Architecture Prabath Siriwardena will examine a reference architecture for IoT and cloud-enabled applications as well as a platform as a service (PaaS)-based application lifecycle management (ALM) process. He also will demonstrate how to build and seamlessly provision an application using IoT and cloud technologies.
Building Tomorrow's Enterprise: Reports From the Ground Wars – WSO2 Vice President and Country Manager for Brazil Edgar Silva will moderate the open discussion featuring panelists LightHouse Tecnologia e Sistemas Founder and Partner Philippe Sevestre, CDS (CondominioDeSolucoes) Solution Director Yuri Marx, Livraria Saraiva eCommerce Solutions Architect Anael Carvalho, and WSO2 Vice President of Solutions Architecture Asanka Abeysinghe.
Together the technology experts will discuss the organizational challenges of building a connected business. They also will dive into the shortfalls of traditional methods, how to increase customer value with seamless internal and external connectivity, and the advantages of using open source middleware and cloud technologies for a connected business.
Integrated Open Source Approach to the Connected Business
The WSO2 booth (#16) at QCon São Paulo 2015 will have experts available to discuss the synergistic, integrated approach of WSO2's 100% open source platforms in addressing the technology demands of competing in a connected world, including the cloud, API management, big data analytics, the management and security of mobile and Internet of Things devices, and DevOps. Among the WSO2 solutions are products from the comprehensive WSO2 Carbon enterprise middleware platform—including WSO2 API Manager, WSO2 Enterprise Mobility Manager, WSO2 Private PaaS, the WSO2 App Factory cloud-enabled DevOps platform, and WSO2 API Cloud.
Significantly, all WSO2 solutions are built on the same fully componentized, OSGI-compliant code base. As a result, developers can easily deploy and customize any of these WSO2 products and the 175-plus components on which they are comprised, providing greater flexibility and agility to meet changing enterprise demands. In addition to WSO2 cloud platforms, all WSO2 Carbon enterprise middleware products also are fully multitenant and cloud-ready. This means IT professionals can write an application once and deploy it on the same middleware on-premises, in the cloud, or in a hybrid environment.
About QCon São Paulo 2015
Celebrating its sixth year, QCon São Paulo 2015 will bring together an unprecedented number of reputed speakers from all over the world. The three-day international conference will host over 90 speakers and 15 session tracks—dedicated to professional developers, technical team leaders, software architects, engineering directors, and project managers. QCon São Paulo aims to disseminate knowledge and innovation for communities of developers and inspire them to create efficient solutions for the modern enterprise. For more information, visit http://qconsp.com..
About WSO2
WSO2 delivers on the promise of the connected business with the only completely integrated enterprise platform that enables businesses to build, integrate and manage their APIs, applications, and Web services on-premises, in the cloud, and on mobile devices. Leading enterprise customers worldwide rely on WSO2's award-winning 100% open source platform and its robust governance and DevOps functionality for their mission-critical applications. Today, these businesses represent nearly every sector: health, financial, retail, logistics, manufacturing, travel, technology, telecom and more. Visit https://wso2.com or check out the WSO2 community on the WSO2 Blog, Twitter, LinkedIn, Facebook, and FriendFeed..
Trademarks and registered trademarks are the properties of their respective owners.