Aspire Systems Works with Ooredoo to Improve Customer Engagement and Retention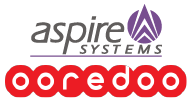 Industry:
Telecommunications
PROJECT
Ooredoo is an international telecommunications company headquartered in Doha, Qatar. Operating in several countries in the Middle East, North Africa, and Southeast Asia, Ooredoo has a customer base of over 114 million.
To improve the efficiency of services for their global client base and improve customer experiences, Ooredoo worked with WSO2 Partner Aspire Systems to transform their business processes.
"
We chose WSO2 as it was seen as the best technology with all capabilities that could enable any enterprise to build an ecosystem to achieve agile digital transformation. Being quick to market is a major success factor for any enterprise today and WSO2 is the right choice as it is well componetized to repurpose any business functionality and achieve the expected ROI."
– Hariharan Ganesh, Head of Enterprise Integration, Aspire Systems
REQUIREMENT
The Customer Care team needed a faster system for accessing and retrieving data. Customer data was highly dispersed and lying in silos across proprietary and enterprise systems. As a result, identification of systems, expecting a response, and mapping it with another system was time consuming. This in turn created a less-than-ideal scenario for maintaining customer relationships.
SOLUTION
The solution comprised of WSO2's integration and API management capabilities.
WSO2's integration platform was used to deploy all of Aspire's core services, design the orchestration, and host service APIs.
WSO2 API Manager was used for authentication, API analytics configuration, and to route all incoming requests from both external and internal systems.
WSO2 API Manager was also used to develop open API architecture, allowing the APIs to be exposed to external systems and enabling the capability of accessing APIs through a Standard Authentication mechanism.
RESULT
The new integration platform gave Ooredoo's customer care team a 360 degree view of their customers and access to sufficient data. This enabled them to promote customized offers which helped improve both customer engagement and retention levels.
WHY WSO2?
WSO2 provides an open source middleware stack. Each product works seamlessly with each other and allows for easy integration with other products. The options available for deployment (on-premise, public or managed cloud, and hybrid cloud), and extensibility support were additional reasons for selecting WSO2.
Ooredoo is digitally transforming its industry using WSO2. Are you?