BDO Improves Operational Efficiency and Enhances Customer Experience With WSO2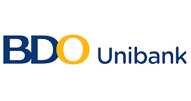 Industry:
Banking and Finance
PROJECT
As the largest bank in the Philippines and a leading bank in Southeast Asia, BDO Unibank strives to be at the forefront of setting high standards as a service-oriented, customer-focused bank. It provides a complete array of industry-leading products and services in the Philippines including lending (corporate and consumer), deposit-taking, foreign exchange, brokering, and more.
BDO has several business units that each look after a specific function of the bank. These business units develop and deploy an increasing number of applications, some to improve operational efficiency and others to enhance the customer experience. They needed a solution that moved away from their legacy point-to-point environment.
REQUIREMENT
BDO needed a more efficient way to connect their applications and web services in order to speed up business processes and streamline secure data exchange.
SOLUTION
Four instances of the WSO2 Enterprise Service Bus (now repackaged as WSO2 Enterprise Integrator) are used as an integration layer between BDO's applications and web services.
WSO2 ESB performs key integration functionality including message transformation and mediation while adhering to BDO's strict security requirements.
After the introduction of WSO2 ESB, their online payment app, which processes up to 10,000 transactions a day, now credits payments in real-time rather than at the end of the day. By end of 2017, they expect over 250,000 transactions will pass through WSO2 ESB with the implementation of a number of web services.
In the future, BDO plans to incorporate WSO2 API Manager to securely expose their web services to external clients outside their network.
WHY WSO2?
WSO2 ESB won over three short-listed on-premise middleware vendors because it met all of BDO's business and security requirements, ran on a smaller footprint and had competitive pricing options. While evaluating they were impressed with the promptness of responses to inquiries and the deep technological knowledge of WSO2 developers and architects. During their implementation they weren't faced with any downtime and were able to get quick responses on support queries, usually without even having to file a JIRA.
BDO Unibank is digitally disrupting its industry with WSO2. Are you?