CASE STUDY
Realdolmen Empowers Brussel's Digital Government Infrastructure with WSO2
Empowering Brussel's Digital Government Infrastructure with WSO2
Around the globe, government agencies are saddled with disparate systems that they have deployed over the years. In pursuit of better communication and collaboration, many of these agencies now are turning to integration to weld these systems together.
A case in point is the Brussels Regional Informatics Centre (BRIC), a public interest agency that serves the 19 municipalities of Brussels-Capital, including the city that is the designated capital of Belgium. BRIC's mission is to organize, promote and spread the use of information and communication technologies (ICT) among various groups—spanning from regional authorities and agencies to hospitals, centers of education, and citizens. It is also the founding shareholder of the region's broadband telecommunications network, IRISNet.scrl.
Among BRIC's initiatives are efforts to enable government agencies in Brussels to better communicate among themselves and their peers through a central hub and smart city platform. Today, the organization has successfully implemented the first of two service-oriented architecture (SOA) platforms in support of this initiative. The platform, developed by Realdolmen, one of the largest independent ICT solution providers in Belgium and a WSO2 partner, leverages several products from the fully open source WSO2 platform to provide integration, identity and access management (IAM), and supporting analytics.
Enabling Smart Government and Smart Cities
BRIC had identified two key projects for advancing the communications and collaboration abilities of its constituents. The first was the Intégrateur de Services Régional (ISR), which would serve as a central platform for government agencies within and outside the Brussels region to share information and capabilities. These agencies would implement one standardized communication flow and connect to the hub in order to both consume and provide their services.
From a technical perspective, the platform would be a large-scale SOA project acting as a hub for web services offered by government institutions, often through other service integrators. A significant portion of the data exchanged would be private, with strict, legally binding access and audit guidelines.
The second project was part of BRIC's Smart City initiative. It would build on Brussel's open data initiative by adding new capabilities to provide a generic platform that could exchange data and services in a unified way with internal and external service providers. This platform will be the future access portal for open data, data from the Internet of Things (IoT) environment, and big data needs as they arise in the future. Additionally the API Store has received an appealing visual design.
For the governmental agency, it was a natural decision to work with Realdolmen and WSO2 in developing these two platforms. Realdolmen, which caters to over a thousand clients in Belgium, the Netherlands, and Luxembourg had the deep ICT architectural and implementation expertise to build the solutions. Meanwhile, the BRIC team was already highly familiar with the WSO2 platform, which had received a positive evaluation right from the start. In particular, the team recognized the advantages of WSO2's pre-integrated products, comprehensive feature set, and affordable pricing options.
"The most important feature of WSO2's platform has been the extensibility that allows us to tailor the solution to our specific needs," says Hendrik Albrecht, division manager of consulting services at Realdolmen.
The ISR Platform: Architecture Overview
For the first project, ISR, Realdolmen envisioned the government agencies using the system as both providers and consumers of services and data, depending on the application and context. The solution, the team determined, was to implement two WSO2 Enterprise Service Bus (WSO2 ESB) layers.
Layer 1 would use an ESB to act as the security gateway, connecting to a custom component for fine-grained access control. This would be exposed to consumers.
Layer 2 would have an internal ESB carrying out all data transformation, logging, and filtering as well as handling connections to providers. A custom component would integrate with the security gateway, and govern access to the rules directory and the reference directory.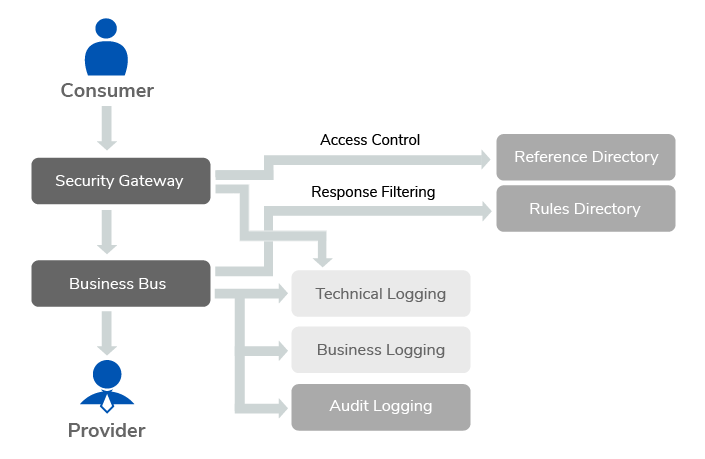 WSO2 ESB layers"/>
Figure 1: The architecture features two WSO2 ESB layers: a Security Gateway that handles access control, and a Business Bus, which performs response filtering, as well as technical, business and audit logging.
Connecting to these layers are custom components for fine-grained authorization and data filtering. Monitoring is handled by Tivoli Business Service Manager; logs are managed by PostgreSQL, and reporting is provided by SAP Lumira. The ELK stack (Elastic Search, Logstash, Kibana) has been used to implement operational dashboards. All of this is hosted in two VMWare-based data centers with a single node per layer deployed in each data center. The databases are a clustered PostgreSQL instance.
"The WSO2 ESB platform provides the features and performance to meet our current requirements," Albrecht notes.
Enabling Smart City Initiatives via Open Data
With the first platform in place, Realdolmen has begun implementing the second platform, which will expose application functionality to build on BRIC's open data initiative and support smart city initiatives. BRIC and Realdolmen envision that the solution architecture will make heavy use of WSO2 API Manager and WSO2 Data Services Server (now included in WSO2 Enterprise Integrator).
"BRIC's initial goal will be to have greater control, and insight, in how existing (open data) services are used," Albrecht observed. "In a second stage, we will help BRIC to offer new capabilities, which because they build on the initial deployment, will have the ability to be rolled out quicker and more securely than previous initiatives."
Like the first project, it will be deployed across two data centers. Datacenter 1 will run four virtual servers. One virtual server runs the Publisher, Store and Gateway Master components of WSO2 API Manager and essentially handles exposing APIs to the web. A second handles the actual API traffic management by running the Gateway Worker, Key Manager, and Traffic Manager functionality of WSO2 API Manager.
In addition to these, Datacenter 1 hosts two more virtual servers: one, a private analytics node that runs WSO2 API Manager's analytics component to create API statistics, and the other running WSO2 Data Services Server, which the implementation team noted as the ideal candidate for exposing data sets that have not been converted to APIs and scheduled tasks for data integration with external data providers.
The API traffic management structure and corresponding WSO2 DSS node are duplicated in Datacenter 2, with the addition of a load balancing proxy server to ensure that the system can maintain a high availability mode of operation.
All of this fuels Opendatastore.brussels, the open data portal that publicly shares data sets from the Brussels public services agencies and their partners. Data in the areas of mobility, health, the environment and cartography are freely accessible. Additionally, public transport data, green spaces, and other resources are available through a variety of licenses. The team expects to add new capabilities to the platform in a second stage of development.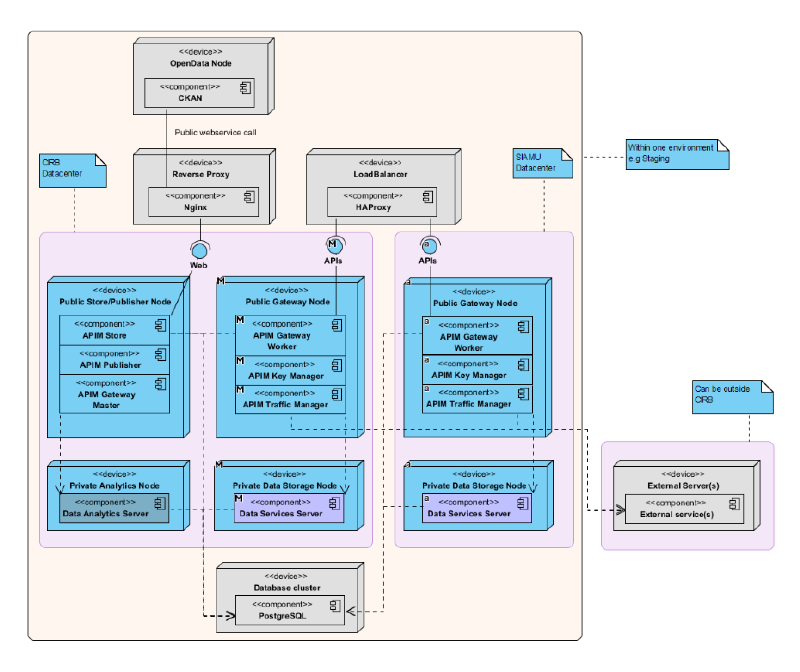 Figure 2: Deployment pattern for the internal SOA platform powering the BRIC open data initiative.
Conclusion
Despite the complexity of integrating the new platforms with existing capabilities in the organizations, along with the discovery of new requirements, neither BRIC nor Realdolmen experienced technical difficulties in implementing the project with WSO2 middleware. More importantly, the WSO2 products have been free from downtime, and the new solutions are delivering services that were previously unavailable.
BRIC has plans for the future, as well, especially with the Smart City platform. Because many BRIC partners have offline data sets that the organization would like to expose, the platform needs to be extended to offer a simple and standardized approach to add these data sets and expose them as APIs. The BRIC team also notes that, in the future, new initiatives, such as IoT, will need to be seamlessly integrated in the new API gateway infrastructure.
"WSO2's platform has proven to be a robust and affordable solution for implementing a range of enterprise integration patterns," stated Albrecht. "We look forward to extending the use of WSO2 as BRIC continues to build on the initial success of its solutions."