CASE STUDY
SIBUR Powers Content Integration with Platform Built Using WSO2 Enterprise Service Bus
Leading Provider of Gas Processing and Petrochemicals Ensures Consistency of Information Across Processes and Systems Using Integration Platform Based on WSO2 Enterprise Service Bus
The SIBUR Group is headquartered in Moscow, but its gas processing and petrochemical operations have a global reach. With more than 25,000 employees, SIBUR operates 26 production sites with over 1,400 large customers in the energy, automotive, construction, fast moving consumer goods (FMCG), chemical, and other industries in approximately 75 countries worldwide.
Working in a complex, high-risk industry means that content management is critical for enabling effective processes and operations throughout the organization. Adding to the complexity is the need to ensure the consistency of information for business processes that extend across different subsidiaries and a range of computer systems.
To address this demand, SIBUR Group turned to CROC, a WSO2 partner that leads the Russian systems integration market and is one of the 10 largest IT companies in Russia.
Today, SIBUR and a growing number of its subsidiaries use the enterprise content management (ECM) system created and implemented by CROC. Developed as part of the project, an open source integration platform enables the integrity of system directories and the interaction with several installations and various types of enterprise resource planning (ERP) systems. The fact that the integration is based on WSO2 Enterprise Service Bus (WSO2 ESB) has allowed the customer both to leverage the industrial solution's scalability and functionality and reduce licensing costs.
Through the deployment of the unified ECM system and integration platform, SIBUR has accelerated the approval and search of documents, reduced document printing and storage costs, and increased both the staff performance and the transparency of its business processes.
Low Cost Meets High Performance With WSO2 ESB
SIBUR has Russia's largest and most extensive integrated infrastructure for the processing and transportation of associated petroleum gas and natural gas liquids. To support these operations, the company has subsidiaries located across many regions of the country.
While SIBUR has had document management in place for many years, the enterprise resource planning was not centralized well enough. Therefore, the company sought a more effective way to deliver and store information across corporate headquarters and its subsidiaries on a centralized basis. This led to the decision to implement a unified ECM system in the Group that would allow for the management of organizational and regulatory documents and contracts, as well as the storage of primary financial, legal, and investment documentation. Additionally, the implemented tool would be integrated with the company's key business applications.
"SIBUR is an established leader in the industry with a network of information systems across the country. Document information plays a key role, so it is important that these systems all work together reliably and securely," explained Pavel Klepinin, CIO at SIBUR.
CROC determined that the best approach for the integration of applications across SIBUR Group would be a service-oriented architecture (SOA), where an ESB integration platform would serve as the backbone for handling all mediation and transformation of services.
"We already had previous experience working with WSO2 integration solutions, which proved both their cost-effectiveness and high-performance."
Alexey Smirnov,
Head of Integration Solutions Practice,
CROC
Alexey Smirnov, head of the integration solutions practice at CROC, remarked, "The integration platform deployment had to meet the following requirements: a low license cost, flexibility, scalability, and rich functionality. We already had previous experience working with WSO2 integration solutions, which proved both their cost-effectiveness and high-performance, so the choice was easy."
With these requirements in mind, open source software products quickly rose to the short list of solutions to consider. Ultimately, WSO2 ESB was chosen to serve as the core of the integration platform along with Apache ActiveMQ as the messaging engine.
WSO2 ESB's Open Architecture Facilitates Implementation
The integration project was a complex one, but WSO2 ESB's integration capabilities and support for open standards helped to facilitate the implementation. For example, the adapters developed under the project for the bank-client applications support tens of banking document formats and enable flexible setup in order to connect new banks.
Further complicating the integration platform project was an ERP system replacement project that was running in parallel at SIBUR.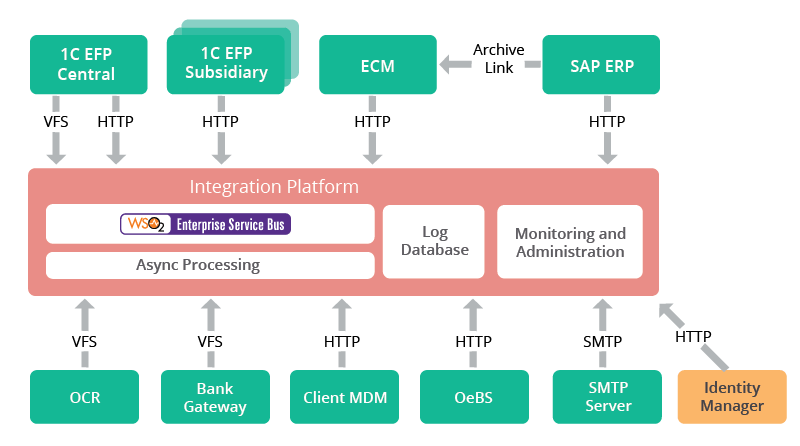 WSO2 Enterprise Service Bus handles mediation and transformation within the SIBUR integration platform
"Most of the information systems use their own data formats, so we had to create a lot of adapters to support transformation between the different systems we were integrating and the ESB format. In addition to the building of the adaptors, we also had to support the transparent integration with two different ERP platforms," noted Alexey Smirnov.
Increased Consistency and Efficiency
Today, the SIBUR integration platform relies on WSO2 ESB to handle mediation and transformation. Within the platform, it works alongside Apache ActiveMQ for messaging and asynchronous processing, an Oracle database for logging, Aspose.Pdf for PDF parsing, ABBYY RS for optical character resolution, and custom-developed Web services. WSO2 ESB is installed in a clustered environment based on Microsoft technologies and a virtual platform.
The SIBUR integration platform (see figure 1) connects the enterprise content management system with multiple ERP systems, an optical character reader (OCR), a client master data management (MDM) system, and Simple Mail Transfer Protocol (SMTP) server, among others.
SIBUR plans to use WSO2 ESBin two upcoming large projects: ECM system integration with a new SAP ERP system and the rollover to the rest of the SIBUR subsidiaries.