CASE STUDY

Mobile Service Provider Orchestrates its Success with WSO2 Middleware
New Zealand's Newest Mobile Provider Uses WSO2 Carbon Middleware to Help Capture Nearly One-Sixth of the Market
Two Degrees Mobile Limited (2degrees) is proof positive that a start-up can enter a saturated market and become an industry leader. In 2008, the company bet that it could attract consumers from established mobile communications companies by offering superior services. The bet paid off. Today 2degrees serves some 800,000 subscribers —roughly one-sixth of New Zealand's entire population.
Behind the success of New Zealand's newest mobile company is a seasoned management team with more than three decades of global telecommunications industry expertise. Early on, the team committed to implementing state-of-the-art technology, including the WSO2 Enterprise Service Bus (WSO2 ESB), to build and run its services. Using the WSO2 ESB, 2degrees was able to develop and launch its innovative mobile services in about eighteen months. Mobile users immediately recognized the value of those WSO2 ESB-enabled services, and within months of the launch, 2degrees began exceeding its goals for acquiring subscribers.
With the WSO2 ESB successfully managing its service mediation and orchestration, 2degrees has begun adding other products in the WSO2 Carbon middleware family: WSO2 Data Services Server, WSO2 Business Activity Monitor, and WSO2 Business Process Server, to expand and enhance its mobile services.
WSO2 ESB Tops Rigorous Evaluation
Prior to launching, the 2degrees management team needed to establish the architecture and technology roadmaps that would support the company's mobile services. The team first determined that it would use the Java 2 Platform, Enterprise Edition (J2EE) to implement a service-oriented architecture (SOA). Next began an extensive evaluation of ESBs.
"We had to set up a mobile phone company from scratch, so every technology decision could potentially have a tremendous impact on our long-term business efficiency and growth," recalls 2degrees Software Development Manager Neeraj Satija, the company's third employee in the IT team. "We're a strong supporter of the SOA paradigm, and the ESB we chose would play an important role in that architecture."
2degrees used a detailed matrix of key criteria to evaluate several well-known proprietary and open source ESBs. Among them, only two satisfied both the criteria and subsequent proof-of-concept analysis: WSO2 ESB and a leading legacy enterprise service bus. Ultimately, 2degrees chose WSO2's software for its proven performance and efficiency, as well as the flexibility offered by an open source license.
"After a comprehensive review of ESBs, it made sense commercially to go with WSO2," Neeraj recalls. "We were confident that the WSO2 ESB could support our projection of 4 million transactions per day, and it freed us from the licensing issues that come with using proprietary software."
Mobilizing Service Mediation
Today 2degrees uses multiple WSO2 ESB servers to support a range of channels for customers, retailers and dealers through a number of different websites, an interactive voice response (IVR) system, short message service (SMS), and Unstructured Supplementary Service Data (USSD) for SMSlike information exchange.
One of 2degrees' most important service innovations has been to provide more transparency to customers and partners without exposing its Web services to the outside world. The company has accomplished this by capturing requests from its channels —such as the IVR or website — and dropping them into the ESB layer of the SOA. There, the SOA takes advantage of the ESB's inherent mediation functionality to recognize the type of request being made, create a replicate proxy service, and make sure that the proxy delivers the right data in the right format to the real Web service.
"For example, a customer that wants to top up an account with $20 can call, text or use the website to access our top-up service," Neeraj explains. "We don't want to expose that Top-Up service, so it is recreated as a proxy service that is a gateway to the real top-up Web service."
Since launching the original Top-Up service, 2degrees has rolled out a number of variations using the WSO2 ESB.
Auto Top-Up automatically triggers a top-up payment whenever the customer's balance dips below a certain level. An "Ask Me" option ensures that the customer is in charge of the decisions around the balance and payment.
ME2U lets a customer with a zero balance use a friend's balance to help top them up. For example, if a friend has a $40 balance and agrees to share $20 with the customer, then the balance for each account becomes $20.
FB Top-Up is a simple application that uses the Facebook API. It captures a customer's mobile number, choice of recharge amount, and what the customer wants to do and passes it along to the ESB, which does the configurations.
Agile Service Orchestration
Many of the 2degrees services also require orchestration. However, back in 2008, the business process management (BPM) tools for the workow management had not taken off to the extent that would make them a viable option. Instead, 2degrees turned to the WSO2 ESB for workow orchestration.
A core 2degrees Web service that uses the WSO2 ESB for orchestration is First Call Activation (1CA). When a new customer makes the first call, the 2degrees IVR recognizes that the customer has not been activated, and it hands over the orchestration to the ESB layer. The 1CA Web service goes through a series of nine steps to validate and activate a customer in three systems: the network, customer center, and billing. It then notifies the customer that the activation is complete.
"All of the processes within our 1CA Web service are done using several sequences that the WSO2 ESB exposes," Neeraj notes. "We've effectively replicated the functionality of a BPM tool with our 1CA service quite successfully. It serves its purpose, is lightweight, and does not put a lot of pressure on the transaction."
Neeraj adds, "By using WSO2 ESBs to orchestrate composite services like 1CA, we don't need to burden our applications with a lot of business logic."
High Availability and Performance
The ease-of-use and fast performance of such services as Top-Up and 1CA have contributed to the rapid growth of 2degrees' subscriber base and network of partners. To more effectively support these customers and partners, the company has also expanded its WSO2 ESB implementation.
Currently three pairs of WSO2 ESB nodes ensure operational stability, high availability and top performance. The first ESB pair handles internal transactions and synchronous transactions across the company's channels, which require immediate action. The second ESB pair manages asynchronous interactions where a response is not required for an hour, a day or even a week. Recently a third ESB pair has been exposed to external partners, including retail stores and the New Zealand post office. The ESB instances run on six HP Blade servers with Red Hat Enterprise Linux.
"We can do a top-up transaction within 300 milliseconds, so the customer knows almost immediately what recharge amount and the updated balance are," Neeraj observes. "As we've grown, we have added the ESB nodes to make sure we maintain the high performance that our subscribers have come to expect."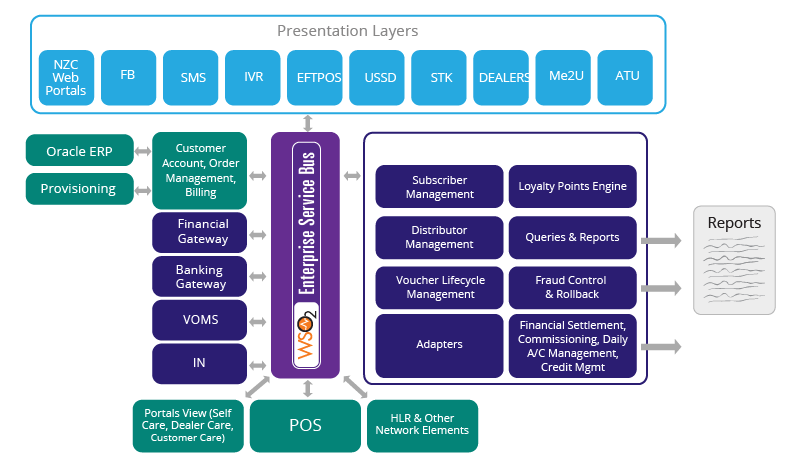 2degrees Mobile Top-Up Service Architecture
Rapid Market Response via Data Services
Another top priority for 2degrees is the ability to rapidly respond to the competition, Mr. Satija noted; "We want a system where we are able to look at a plan that the competition has brought out and within minutes configure a compelling proposition that's able to compete with that plan, and go forward in the market."
The addition of the WSO2 Data Services Server (DSS), used in combination with the WSO2 ESB, has enabled 2degrees to meet this demand by allowing the company to quickly take existing data and deliver it as Web services.
For example, Mr. Satija notes, "One of our competitors recently came up with a new plan that had lots of text services. In a few days, we were able to respond with a new plan in direct response to it, a large part of which was made possible using data services."
In addition to speeding market response, 2degrees also relies on WSO2 DSS to share more information with 2degrees customers.
"A lot of our customers came over because of the transparency we provide," Neeraj says. "We are using WSO2 DSS quite extensively to take billing information from our databases and expose it as data services that we can then share with our subscribers. Going forward, we plan to use WSO2 Data Services Server even more."
WSO2 Middleware is Central to Current and Future Innovation
Even as 2degrees has invested in providing fast, uninterrupted service to its customers, the company has also continued to innovate new services and solutions. For instance, 2degrees now offers Universal Serial Bus (USB) sticks packaged with a mobile data plan. When a customer inserts the USB into a mobile device, it triggers a WSO2 ESB-enabled service similar to 1CA but designed for data plan activation.
"We've been very innovative in the way we've used WSO2 ESBs," Neeraj says. "I'm not aware of any other telecommunications company that provisions and activates a data plan like that from a USB stick."
2degrees also uses WSO2 ESBs to generate transaction IDs, Neeraj notes: "Anytime there is a transaction, it drops into a service that generates a unique transaction ID, which is sent back in the response. If a transaction fails, we can specify the transaction ID, search on that, figure out what happened and then report back. It's that high level."
Recently, 2degrees has expanded its use of WSO2 Carbon middleware products to also include WSO2 Business Activity Monitor (WSO2 BAM) and WSO2 Business Process Server (WSO2 BPS). WSO2 BAM currently provides more fine-tuned integration of the WSO2 ESBs, and soon it will be used to further enhance internal efficiency and effectiveness by providing alerts, supporting more detailed analysis, and automating the process of ESB administration. WSO2 BPS is being rolled out to support SOA services that require more advanced levels of orchestration.
"With WSO2 Carbon, we've found a strong middleware platform that is enabling us to deliver the innovation, high volume and high performance required to be a mobile market leader. "
"We've grown our customers much faster than we could have ever predicted, and that has required us to significantly accelerate the rollout of new services and the technology to support them," Neeraj says. "With WSO2 Carbon, we've found a strong middleware platform that is enabling us to deliver the innovation, high volume and high performance required to be a mobile market leader."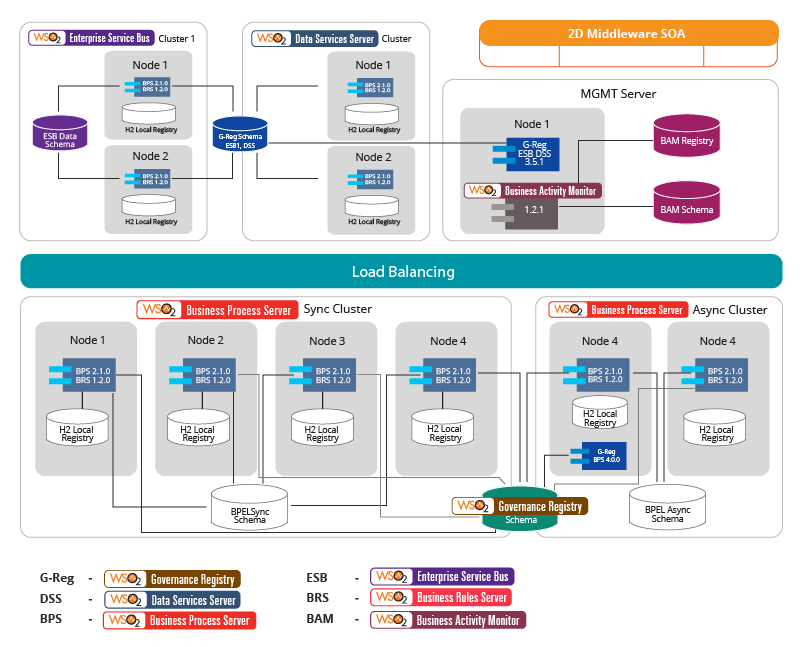 2degrees New Production Environment