WSO2 App Factory
WSO2 App Factory has been moved to maintenance mode. Hence there will be no further development or evolution of the product.
We will continue to support existing customers using this product. For more details contact us.
WSO2 App Factory is a multi-tenant, elastic and self-service Enterprise DevOps platform that enables multiple project teams to collaboratively create, run and manage enterprise applications. Combining complete application lifecycle management and Platform-as-a-Service (PaaS) capabilities, WSO2 App Factory makes it possible to develop, test, deploy to production and retire applications with a single click. It also provides an easy way to discover and consume apps and APIs through a user-friendly storefront.
App Factory supports development of any type of enterprise application, including web apps, work flows, integration, business rules, mashups, mobile apps and more, leveraging WSO2 middleware as a service or even non-Java and non-WSO2 technologies. By integrating with your existing tools, including source control, issue tracker, forums, build management, and deployment, it provides a complete systems development life cycle (SDLC) tool chain.
By simplifying project set-up, provisioning and development activities, App Factory transforms application delivery and the IT-business dynamic. IT becomes a more agile business-enabler, providing faster time-to-market and enhanced visibility into the performance, adoption, usage and value of applications. App Factory offers a supported, seamless solution that can be deployed in a private cloud or into a public cloud.
Capabilities
Introducing the Cloud-enabled Enterprise DevOps Platform - WSO2 App Factory
Lifecycle Management Activities Integrated by App Factory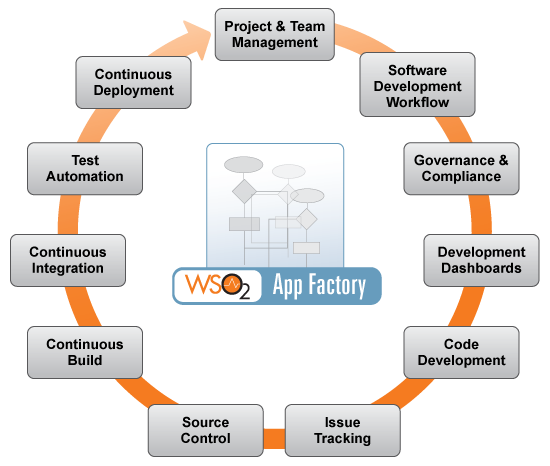 App Factory Topology with Multiple Clouds and Integrated ALM Components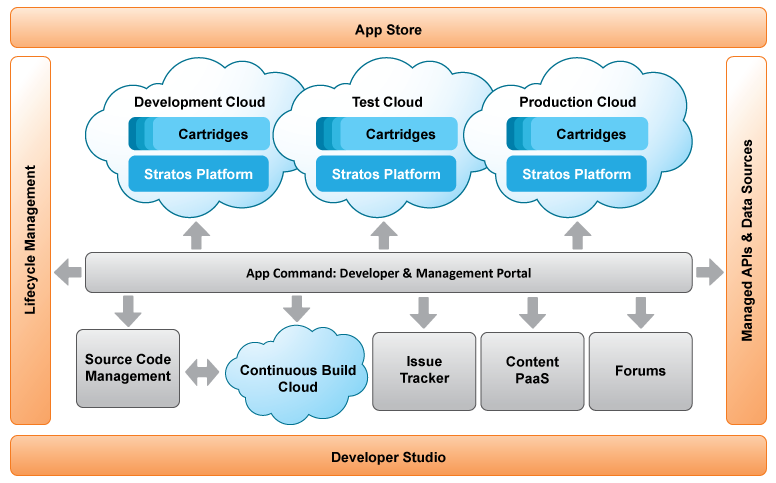 WSO2 App Factory Sample Use Cases
Responsive IT: Create an internal cloud for supporting managed innovation inside the enterprise with IT as a Service.
An Ecosystem PaaS: Enables the enterprise to offer a managed environment for third parties to innovate around the organization. Securely share, manage and monitor APIs used by external apps.
Features
Provision Application Projects
Self-service provisioning of project workspaces and resources including source repository, issue tracker, build configuration, forums, and requirements manager
Invite developers, testers, and operation engineers into application workspace
On-demand access to development, test, and production run-time Clouds
Accelerate Development Iterations
Develop applications separately with per developer space (to expand to per developer testing in future)
Enable team members to increase visibility and coordination with each other through app wall and user wall
Rapidly build Web applications, JAX-WS or JAX-RS services, business processes and back-ends for mobile applications
Automate and integrate continuous build, continuous test, and continuous deployment activities
Perform one-click actions for code branching, versioning, and promotion
Access shared multi-tenant source repositories, build farms, testing servers and run-time environments
Increase best practice adoption and establish agile application governance processes
Establish application development process phases, checkpoints, or approval work flows
Enforce coding conventions and best practices via automated tools, automated quality assurance, and security testing
Promote managed API subscriptions and access
Validate introduction of 3rd party libraries and license compliance
Manage application scaling parameters across development, testing, staging and production environments
Adopt a Cloud Platform and offer PaaS
Offers out-of-the-box integration with WSO2 Private PaaS as the cloud platform
Provides multi-tenanted SDLC toolset to build and deploy application into cloud platform
Helps assign custom URLs to applications that are running on the PaaS
Offer a shared, on-demand elastic infrastructure that scales
Deploy applications onto the complete WSO2 middleware platform, non-Java language containers (PHP), and 3rd party products (JBoss Application Server, Tomcat)
Obtain an Integrated DevOps Experience
Incorporates full lifecycle tooling, workflow, and reports for developers, quality assurance members, and operations engineers.
Automate and integrate continuous build, continuous test, and continuous deployment activities
Encompasses complete development lifecycle, from source code checkout, code development, check-in, and push up stream
Incorporates functional, non-functional, regression, and performance test activities
Publish Applications and APIs into App Stores and API Stores
Management Dashboards for CXOs & Project Managers
Dashboards provide visibility into application status, application health, application service assets, application activity, and application lifecycle stage progress
DevOps KPI monitoring via integration with WSO2 Business Activity Monitor
Project managers can monitor and receive notifications based on KPIs
Customize to follow your best practices and standards
Configure application development process phases, checkpoints, or approval work flows
Specify custom lifecycle stages in addition to pre-defined Development, Testing, and Production phases
Integrates with Your Existing Infrastructure
Integrates with your existing software development lifecycle (SDLC) tools including SVN, JIRA, Git, Maven, Jenkins, Bamboo and Clover
Integrates with existing user repositories via LDAP or Microsoft Active Directory