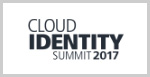 The Cloud Identity Summit brings together the brightest minds across the identity and security industry and includes the best industry thought leaders, CIOs, executives and practitioners. This year's summit will focus on Intelligent Identity.
Prabath Siriwardena, Senior Director of Security Architecture at WSO2 will be speaking on how threat landscapes in OAuth 2.0 is essential in building a secured identity infrastructure. His talk will guide you through the multiple attacks that took place over the last few years exploiting security vulnerabilities in various OAuth 2.0 implementations, their root causes and how to mitigate any future security exploits by following best practices.

Prabath is the Director of Security Architecture at WSO2. Prior to his current role, he chaired the management committee of Integration Technologies. He holds a degree in Civil Engineering and a masters in Computer Science from University of Moratuwa, Sri Lanka. He is a member of OASIS Identity Metasystem Interoperability (IMI) TC, OASIS eXtensible Access Control Markup Language (XACML) TC, and OASIS Security Services (SAML) TC. Prabath is also a member of Apache Axis PMC. He has delivered talks at numerous international conferences including OSCON, ApacheCon, WSO2Con, EIC, OSDC, and IDentity Next.