Forum
Fraud Detection Solutions in the Finance Industry
Payment fraud can hurt a bank or financial institution in multiple ways. The direct financial loss usually has the least impact on the bank. The more serious problem is the loss of customers due to inconveniences suffered through payment fraud. Banks and financial institutions that neglect the rising number of fraudulent transactions and fail to implement effective fraud prevention mechanisms put their corporate image at great risk.
CIOs of banks and financial institutions don't have it easy. On one hand fraud is becoming more complex and dangerous every minute with fraudsters countering anti-fraud measures via technology and advanced statistical models. On the other hand, overprotective fraud solutions are driving customers away. Finding the right level of fraud prevention is more of an art than a science. This Forum will enable CIOs to draw this fine line in a simple, yet effective manner.
Who should attend?
CIOs and CTOs of banking and financial institutions
Heads of IT, Risk management and Card center of the banking and FI sector
This forum will discuss
Various fraud detection mechanisms, such as real-time queries, fraud scoring, Markov models and machine learning together with visualization techniques that can protect banks and financial institutions against fraud
Demos of the WSO2 fraud detection solution
Other analytics solutions applicable to the banking and financial industry
Discussion on questions and feedback on current challenges
Presented by: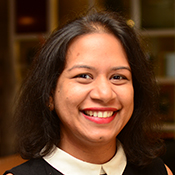 Seshika is involved in the application of WSO2 products in financial markets. She works in the Research team at WSO2, and is currently focused on creating anomaly detection solutions using the WSO2 Analytics Platform. Seshika started her career at Millennium Information Technologies and later joined Commercial Bank of Ceylon on completion of her postgraduate studies. She has spoken on similar topics at many industry conferences including ApacheBigDataCon, In Memory Computing Summit and BigDataTechCon among others.
Bring your concerns, questions, or any issue related to fraud detection you want to solve! We would like to keep this session as interactive and productive as possible.

Colombo
Thursday, May 4
8:30 AM to 12:00 PM
WSO2
20, Palm Grove,
Colombo 03.