Software architecture is a massive multidisciplinary subject, covering many roles and responsibilities. The O'Reilly Software Architecture Conference is designed to provide the necessary professional training that software architects and aspiring software architects need to succeed.
Enterprises today operate in complex and competitive markets, constantly trying to optimize business functions. For the business to be agile enterprise software needs to be agile, helping with evolutionary as well as revolutionary changes that will affect core business functions. In this session Asanka will discuss iterative architecture, which is about taking an iterative approach when introducing architectural changes to support business and technical requirement with real world examples of implementing architectures in iterations.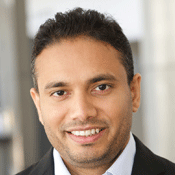 Asanka Abeysinghe is vice president of solutions architecture at WSO2. In his role, he spearheads the company's customer facing technical tasks and oversees the solution architecture and technical sales functions. He also provides consulting to key WSO2 customer and conducts workshops specifically targeted at enterprise architects and technical managers. Asanka has over 20 years of industry experience, which include implementing projects ranging from desktop and Web applications through to highly scalable distributed systems and SOAs in the financial domain, mobile platforms, and business integration solutions.