Workshop
Extend Your Consumer Digital Experience with IoT
WSO2 IoT Server is one of the most adaptive Apache licensed open source IoT platforms available today. It provides best of breed technologies for device manufacturers to develop connected products as well as rich integration and smart analytics capabilities for system integrators to adopt devices into systems they build.
Who should attend?
Enterprise architects who are looking to integrate devices to their existing systems as well as new inventors who are building connected products.
This workshop will discuss:
Core concepts around the WSO2 IoT platform
Writing a connector to your device
The different ways to leverage smart analytics capabilities
Device management capabilities, including supporting APIs
Presented by: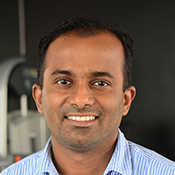 Director - IoT Architecture
Sumedha is part of the team that spearheads architecture efforts on the conceptualization and enhancement of WSO2's IoT offerings. Previously, he contributed to the successful implementation of data, SAP and repository-based integration projects, as well as many WSO2 quickstart development consulting engagements. He is an active committer in the Apache Axis2 project.
WSO2 workshops are meant to be practical, interactive and educative. They are presented by WSO2 personnel who regularly participate in architecture reviews and consulting services and very often are a part of our engineering team.

Colombo
Thursday, July 13
9:30 AM to 1:30 PM
WSO2
20 Palm Grove,
Colombo 03,