Workshop
Identity and Access Management in the Era of Digital Transformation
Identity and access management (IAM) is no longer just about managing employees but also encompasses customers, partners, suppliers, and devices. It enables you to provide a seamless experience to all users of your system while making sure that security is the highest priority. A solution for strong identity and access management is critical to the success of a digital business.
Traditional enterprise IAM solutions usually don't meet the unique requirements that customers demand therefore implementing a customer IAM (CIAM) strategy has become necessary. Overcoming the challenges of CIAM and correctly leveraging it with the help of a holistic IAM solution will give you an edge over your competitors. Workforce IAM is also extremely important and helps in optimizing business operations and enhancing employee productivity.
In this workshop WSO2 Senior Director of Security Architecture Prabath Siriwardena will explore
The challenges of IAM and how to overcome them
The best practices, standards and trends in IAM
Identity Defined Security
How WSO2 provides a holistic IAM solution that supports your organization's digital business initiative
Who should attend?
Enterprise architects, solution architects, CTOs, CIOs and others that wants to learn about the role of identity and access management in the era of digital transformation and how WSO2 Identity Server is used to achieve this.
Presented by: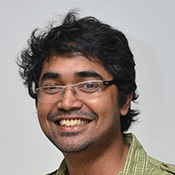 Senior Director - Security Architecture
Prabath has over 11 years of industry experience that currently involves providing security architecture solutions WSO2 key customers. He has spoken at several global user conferences and authored four books related to Apache Maven, enterprise integration, and API security. He is an Apache Axis2 PMC member and a member of OASIS Identity Metasystem Interoperability TC, OASIS eXtensible Access Control Markup Language TC, OASIS Security Services TC, OASIS Identity in the Cloud TC, and OASIS Cloud Authorization TC.
WSO2 workshops are meant to be practical, interactive and educative. They are presented by WSO2 personnel who regularly participate in architecture reviews and consulting services and very often are a part of our engineering team.

Colombo
Thursday, July 20
9:30 AM to 1:30 PM
WSO2
20, Palm Grove
Colombo 03
00300