Workshop
Integration in the Age of Digital Transformation
Every enterprise has a multitude of existing systems that perform critical functions, including on-premise, internal and external, as well as cloud systems. Integrating information across these systems is critical for an enterprise to successfully implement its digital products by way of enabling the organization to offer APIs that provide critical business functions to attract new markets. Therefore, most often than not, enterprise integration is at the heart of any organization's digital transformation strategy.
Who should attend?
Enterprise architects, solution architects, CTOs, CIOs and others that wants to learn about the role of integration in digital transformation and how WSO2 Enterprise Integrator is used to achieve this.
This workshop will explore the following areas:
Overview of enterprise integration: The past, present and future
Integration service: Is it an anti-pattern in future enterprise architecture?
Integration beyond the ESB: Integrating services, systems, data and identities
The role of integration in microservices, Internet of Things (IoT) and APIs
Redefining the developer experience
Hybrid integration: On-premise, integration Platform as a Service (iPaaS) and iSaaS
Presented by: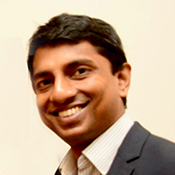 Senior Director of Solutions Architecture
Mifan Careem is a Senior Director of Solutions Architecture at WSO2 and works out of our New York office. He is experienced in SOA and industry specific solution architectures and specialises in spatial architectures and GIS, eGovernment cloud, emergency management and big data analytics. Mifan works closely with customers liaising with WSO2 Engineering and Sales teams to analyse and define domain specific solution architectures in client domains. He is also lead architect for many global projects, including the national initiative to build a cloud-based SOA platform for local government bodies in Sri Lanka. Mifan is a frequent speaker at events around the globe and was a founding member and board director of the Sahana Disaster Management Project. He is also a consultant spatial architect for many government initiatives in Sri Lanka.
WSO2 workshops are meant to be practical, interactive and educative. They are presented by WSO2 personnel who regularly participate in architecture reviews and consulting services and very often are a part of our engineering team.

New York
Thursday, May 18
9:30 AM to 1:30 PM
WSO2
23rd Floor,
5 Penn Plaza,
New York 10001