Workshop
APIs: The Digital Connectors
API's are the key foundation of digital transformation and can be seen as the "reception" and front line of defence of your business. Therefore, it's important to understand how and when APIs can assist your enterprise's digital transformation in order to reap all the benefits of your API ecosystem.
Who should attend?
Enterprise architects, solution architects, CTOs, CIOs and others that wants to learn on how the WSO2 platform can help them follow best practices on deployment and automation.
In this workshop, we will discuss
Importance of API Management and its role in digital transformation
Key performance indicators (KPIs) to evaluate your API strategy
How to digitize your business APIs
Versioning and lifecycle management of APIs
How to engage the digital community
API consumption: security, rate limiting and policies
How to understand your API consumption through analytics
The importance of the right solutions architecture
API-centric digital transformation success stories
Presented by: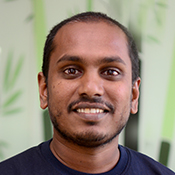 Director of Cloud Architecture
Lakmal is the Director of Cloud Architecture at WSO2. In 2005, Lakmal co-founded the thinkCube, the pioneers in developing the next generation of Collaborative Cloud Computing products that are tailored towards Telecom operators. He oversaw the overall engineering process, giving special attention to scalability and service delivery of thinkCube solutions. Prior to co-founding thinkCube, Lakmal spent four years at ITABS, a company that specialized in Linux based server deployments that came with a custom easy-to-use server management interface.
WSO2 workshops are meant to be practical, interactive and educative. They are presented by WSO2 personnel who regularly participate in architecture reviews and consulting services and very often are a part of our engineering team.
Paris
Thursday, May 18
9:30 AM to 1:30 PM
Terrass Hotel,
12-14 rue Joseph de Maistre,
75018 Paris,
France