Workshop
Architecting the Digital Enterprise
Today, consumer experience has advanced leaps and bounds because of modern technology and people's lifestyles. With the advent of social communication, mobile devices and a multitude of easily available and accessible apps, consumers today expect highly flexible, user-friendly, quick and agile services from enterprises. Enterprises need to meet these high expectations if they are to remain competitive. More importantly, they should also revisit their technology to see whether they are better equipped to provide such services.
Putting together a new enterprise architecture is hard. Dissecting an existing enterprise architecture and putting it back together with the necessary parts is even harder. The objective of this workshop is to identify the main pillars that are needed to build such an enterprise architecture. It will also explore how WSO2 can help you do so.
In this workshop we will:
Discuss trends towards becoming a digital enterprise
Explore what that means from an enterprise's perspective
Identify the steps to architecting a digital enterprise
How to leverage WSO2's offering to architect a digital enterprise
Demonstrate an example that puts theory into practice
Who should attend?
Enterprise architects, solution architects, CTOs, CIOs and others that wants to learn about how the WSO2 platform can help them build a digital enterprise architecture.
Presented by: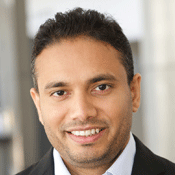 Vice President – Solutions Architecture
Asanka spearheads the company's customer facing technical tasks and oversees the solution architecture and technical sales functions. He also provides consulting to key WSO2 customers and conducts workshops specifically targeted at enterprise architects and technical managers. Asanka has over 15 years of industry experience, which include implementing projects ranging from desktop and web applications through to highly scalable distributed systems and SOAs in the financial domain, mobile platforms, and business integration solutions.
WSO2 workshops are meant to be practical, interactive and educative. They are presented by WSO2 personnel who regularly participate in architecture reviews and consulting services and very often are a part of our engineering team.

San Francisco
Wednesday, October 25
1:30 p.m. to 4:30 p.m.
Marriott Marquis
780 Mission Street,
San Francisco,
CA, 94103