Workshop
API Security Best Practices and Guidelines
Modern enterprise and consumers are increasingly adopting APIs, exceeding all predictions. It has become the 'coolest' way of exposing business functionalities to the outside world. This increase means you need to be more aware of API security. Both public and private APIs need to be protected, monitored and managed. API security has evolved a lot in the last five years and the growth of standards has been exponential. By following best practices when securing APIs, you will be able to wade through the weeds and keep the bad guys away while reaping the internal and external benefits of developing APIs for your services. This workshop will guide you through the maze of API security options and share industry-leading best practices when designing APIs with rock-solid security.
Who should attend?
Solution architects and developers who want to learn how the WSO2 platform can help you protect your precious business APIs.
Agenda
Managed APIs
OAuth 2.0
API Security Patterns
Introduction to WSO2 API Manager
Introduction to WSO2 Identity Server
Using WSO2 platform to build API security patterns
Presented by: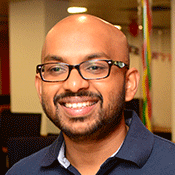 Director - Solutions Architecture, WSO2
Nuwan works closely with WSO2 customers on enterprise solutions. His experience spans across multiple verticals such as e-government, education, e-commerce, and healthcare. Prior joining the WSO2 solutions architecture team Nuwan worked as a product lead in WSO2 engineering team and has provided technical leadership for products such as WSO2 User Engagement Server (UES), WSO2 Enterprise Store (ES) and Jaggery.js framework. Nuwan has also contributed to projects such as API Manager and Carbon within WSO2 and to the Apache Web Services and Shindig projects in the Apache Software Foundation. In 2007 and 2008, Nuwan was involved in research and development for the European Union's Information Society Technologies SOA and mobile computing projects. He is also a member of the British Computer Society.

Minneapolis
Thursday, August 30
9:30 a.m. to 1:30 p.m.
Venue to be notified.
Register
(This is an in-person workshop only)