Workshop
API Management within a Microservices Architecture
Microservice architecture is often misunderstood and misread. The architecture promotes lightweight edge gateways and proxy processors. This very fact is misunderstood as a replacement for an API Management layer, which focuses a lot more on quality of services such as life-cycle management, fine-grained security, throttling and a developer enablement portal.
During this meetup, we will discuss, the place of API Management in a microservices ecosystem. We will discuss the purpose of edge gateways and proxies and how that complements a well defined API Management layer.
Presented by: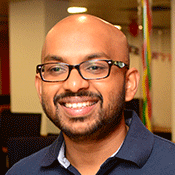 Director - Solutions Architecture, WSO2
Nuwan works closely with WSO2 customers on enterprise solutions. His experience spans across multiple verticals such as e-government, education, e-commerce and healthcare. Prior joining the WSO2 solutions architecture team Nuwan worked as a product lead in WSO2 engineering team and has provided technical leadership for products such as WSO2 User Engagement Server (UES), WSO2 Enterprise Store (ES) and Jaggery.js framework. Nuwan has also contributed to projects such as API Manager and Carbon within WSO2 and to the Apache Web Services and Shindig projects in the Apache Software Foundation.In 2007 and 2008, Nuwan was involved in research and development for the European Union's Information Society Technologies SOA and mobile computing projects. He is also a member of the British Computer Society.

Chicago
Thursday, July 12
9:30 a.m. to 1:30 p.m.
Regus
Chicago Mercantile Exchange building
30 S. Wacker Drive
22nd Floor
Register
Book your spot for this in-person, on-site workshop. Please click here to register.