Workshop
API Management within a Microservices Architecture
Microservice architecture is often misunderstood and misread. The architecture promotes lightweight edge gateways and proxy processors. This very fact is misunderstood as a replacement for an API Management layer, which focuses a lot more on quality of services such as life-cycle management, fine-grained security, throttling and a developer enablement portal.
During this meetup, we will discuss, the place of API Management in a microservices ecosystem. We will discuss the purpose of edge gateways and proxies and how that complements a well defined API Management layer.
Presented by: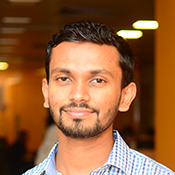 Lead - Solutions Engineer, WSO2
Nirmal is passionate about researching and striving for excellence. His areas of interest include cloud computing, elastic scaling, and data science. He has contributed to the evolutionary PaaS framework, Apache Stratos, where he was elected as a PMC Member and a Committer. Apache Tuscany, Apache JClouds, and Apache Synapse are some of the other ASF projects that he is actively involved in. He has also participated in Google Summer of Code twice. He is also a graduate from the Department of Computer Science and Engineering, University of Moratuwa, Sri Lanka.

Chicago
Thursday, July 12
9:30 a.m. to 1:30 p.m.
Regus
Chicago Mercantile Exchange building
30 S. Wacker Drive
22nd Floor