Workshop
Setting the Foundation for Digital TransformationThrough API Management and Integration
Digital transformation is a mandatory requirement for all enterprises in today's consumer-driven economy. Once you accept this fact and evangelize it within your company, you need to start thinking about how to take steps towards becoming digital. The first step would be to expose your core functionality to a wider audience in a controlled and secure manner. The next step would be to have your value-added functionality ready to be seamlessly exposed. To do this you need to have a strong integration and API management strategy that goes hand in hand with each other.
In this session, we will explore:
Aspects of Integration and API Management in the Context of Digital Transformation
How to Create a Successful Integration and API Strategy for Digital Transformation
How WSO2 Can Help Enforce Your Strategy
Presented by: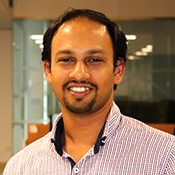 Nuwan works as a Director at WSO2, the largest Open Source integration provider. He is a member of the architecture team at WSO2 which spearheads the strategy and design of WSO2 products. Nuwan specializes in APIs and API Management. He spends most of his time working closely with the Engineering team in WSO2 which is responsible for the research and development of the WSO2 API Manager.
Nuwan is a member of the Open API Security Group and has spoken at numerous conferences around the world on the topics of APIs, Integration, Security and Microservices. He has also conducted many thought leadership webinars on the same subjects. He is also a contributor to Ballerina, the Cloud Native Programming Language.

Victoria, BC
Tuesday, July 24
9:00 a.m. to 1:00 p.m.
Hotel Grand Pacific,463 Belleville Street,Victoria,British Columbia,Canada.