WSO2 Geek Night
Setting the Foundation for Digital TransformationThrough API Management and Integration
Digital transformation is a mandatory requirement for all enterprises in today's consumer-driven economy. Once you accept this fact and evangelize it within your company, you need to start thinking about how to take steps towards becoming digital. The first step would be to expose your core functionality to a wider audience in a controlled and secure manner. The next step would be to have your value-added functionality ready to be seamlessly exposed. To do this, you need to have a strong integration and API management strategy that goes hand in hand with each other.
This forum will:
Focus on aspects of integration and API management in the context of digital transformation
Discuss how to create a successful integration and API strategy for digital transformation
Explore how WSO2 can help enforce your strategy
End with networking and refreshments
Presented by: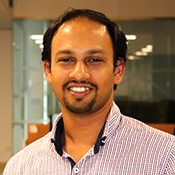 Nuwan is a Director at WSO2. He is a part of the architecture team that drives development efforts of WSO2's API management platform. Previously, he spearheaded architectural, research, and development aspects of WSO2 API Manager. He has also been involved in many customer engagements where he has assisted in developing their solutions architecture. Nuwan joined WSO2 in 2011 as a Software Engineer and worked mainly on the WSO2 ESB. He joined the WSO2 API Manager team in 2012 and has been an API enthusiast since. His interests lie in the enterprise integration patterns and API management domains. His other areas of interest include Java EE Application Design and Development, SOA and enterprise application security. Nuwan has spoken at many technology conferences such as APIDays and WSO2Con and has conducted workshops around APIs, Integration and Security at various parts of the Globe. He has also conducted many thought leadership webinars on the same subjects. He is a member of the OpenAPI Security Group and is a contributor to Ballerina, the Cloud Native Programming Language.

Hong Kong
Tuesday, June 12
7:00 p.m. to 8:30 p.m.
Club FLY
G/F, 24-30
Ice House Street
Central
Register
(This is an in-person forum only)