Workshop
Setting the Foundation for Digital TransformationThrough API Management and Integration
Digital transformation is a mandatory requirement for all enterprises in today's consumer-driven economy. Once you accept this fact and evangelize it within your company, you need to start thinking about how to take steps towards becoming digital. The first step would be to expose your core functionality to a wider audience in a controlled and secure manner. The next step would be to have your value-added functionality ready to be seamlessly exposed. To do this you need to have a strong integration and API management strategy that goes hand in hand with each other.
This workshop will:
Focus on aspects of integration and API management in the context of digital transformation
Discuss how to create a successful integration and API strategy for digital transformation
Explore how WSO2 can help enforce your strategy
Presented by: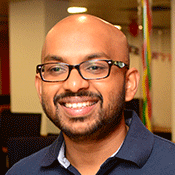 Director - Solutions Architecture, WSO2
Nuwan works closely with WSO2 customers on enterprise solutions. His experience spans across multiple verticals such as e-government, education, e-commerce and healthcare. Prior joining the WSO2 solutions architecture team Nuwan worked as a product lead in WSO2 engineering team and has provided technical leadership for products such as WSO2 User Engagement Server (UES), WSO2 Enterprise Store (ES) and Jaggery.js framework. Nuwan has also contributed to projects such as API Manager and Carbon within WSO2 and to the Apache Web Services and Shindig projects in the Apache Software Foundation.In 2007 and 2008, Nuwan was involved in research and development for the European Union's Information Society Technologies SOA and mobile computing projects. He is also a member of the British Computer Society.

Orlando
Tuesday, June 12
9:30 a.m. to 1:30 p.m.
Regus Space 1800, Pembrook Drive Suite 300