Workshop
Integration in Modern Enterprise Architecture
Enterprise architecture is reshaping, shedding weight, and becoming leaner. To this end, application server based-business services and modules are now treated as legacy layers that need an overhaul to enable modernization. And microservices are offering new hope of a clean service oriented architecture that enhances agility and scalability.
Modern services are fine grained, focussed, and loosely coupled with no central integration intelligence; the integration intelligence is pushed down to the edge of service groups. The change is cross cutting, hence the enterprise's engineering and architecture should look at new ways of governance, messaging, and continuous integration and deployment.
During this workshop, we hope to initiate a dialog on this enterprise architecture change. We will also discuss how the WSO2 enterprise integration platform can address complexities in this changing landscape.
Presented by: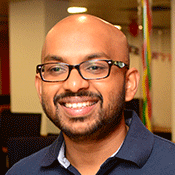 Director - Solutions Architecture, WSO2
As part of the solutions architecture team, Nuwan works closely with WSO2 customers to develop and implement enterprise solutions. His experience spans across multiple verticals, such as e-government, education, e-commerce, and healthcare. Previously, he contributed to the development of various products, mainly focused on the API management technology area. He was also involved in research and development for the EU's Information Society Technologies SOA and mobile computing projects, and is a member of the British Computer Society.

Chicago
Wednesday, March 21
9:30 a.m. to 1:30 p.m.
Chicago Mercantile Exchange 22nd Floor 30, South Wacker Drive, Chicago, IL 60606