Workshop
Building Business Platforms Using an API Driven Marketplace
Business platforms are fast becoming the de-facto business model for large scale digital innovation. The success of unicorn businesses such as Uber and Airbnb that continue to disrupt traditional established markets is proof that business platforms are here to stay!
Building a sustainable platform goes beyond just technology. Ensuring digital innovation, participation and agility from both internal and external stakeholders of a platform requires platform design that takes into account the needs of producers and consumers of services and solves them via a technology platform.
Business platforms should connect like a value network and business functionality should be recomposable. APIs are a key part of this platform-driven digital innovation, enabling organizations to expose internal assets in a unified and a governed manner to various stakeholders whilst enabling the community to build innovative applications that consume these services.
This workshop will explore:
The power of the platform business model and case studies around them
How API marketplaces play a role in digital innovation through concepts such as managed APIs, rate limiting, security, monetization, analytics, social feedback and making the API program part of the delivery pipeline
Reference architecture of a modern API marketplace
An implementation roadmap
Framework for on-boarding users and evangelizing the API marketplace
Presented by: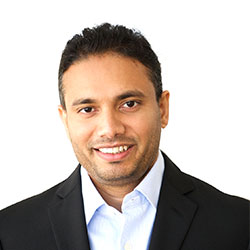 Vice President - Architecture, CTO Office, WSO2
Asanka drives efforts to create, refine, and enhance WSO2's corporate reference architecture and spearheads the thought leadership outlook that defines WSO2's corporate reference methodology for development, customer success, and implementation. Asanka has over 20 years of industry experience, which includes designing and implementing highly scalable distributed systems, SOAs and microservice architectures in the financial domain, mobile platforms, and various business integration solutions.

Mountain View
Thursday, March 22
9:30 a.m. to 1:30 p.m.
WSO2 Office 787, Castro Street Mountain View, CA 94041