Workshop
Securing Microservices
The term 'microservice' was first coined at a Software Architects Workshop in Venice, May 2011. It is now being used to explain a common architectural style that has been witnessed for some time.
The key driving force behind microservices is the speed to production. One should be able to introduce a change to a service, test it and instantly deploy it in production. Microservices can be further challenging with the granularity of the services and the frequent interactions between them.
In this talk, Prabath will address multiple perspectives in securing microservices: Secure Development Lifecycle and test automation, DevOps security and application-level security.
Presented by: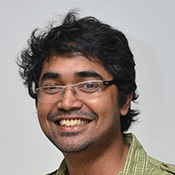 Senior Director, Security Architecture, WSO2
WSO2's in-house security guru and Senior Director of Security Architecture, Prabath Siriwardena has over 11 years of experience in this field and has authored many books including Advanced API Security: Securing APIs with OAuth 2.0, OpenID Connect, JWS, and JWE.
He is a member of OASIS Identity Metasystem Interoperability (IMI) TC, OASIS eXtensible Access Control Markup Language (XACML) TC, OASIS Security Services (SAML) TC, OASIS Identity in the Cloud TC and OASIS Cloud Authorization (CloudAuthZ) TC. Prabath is also a member of Apache Axis PMC and has spoken at numerous international conferences including OSCON, QCon, ApacheCon, WSO2Con, EIC, IDentity Next, RSAC, and OSDC. He has more than 10 years of industry experience and has worked with many Fortune 100 companies.

Columbus
Tuesday, May 08
9:30 a.m. to 1:00 p.m.
Ohio State University
Office of the CIO
Mount Hall
1050 Carmack Road
Parking details - https://bit.ly/2KqYGTi