Workshop
Digital Transformation Through Intelligent APIs and Scalable Integration
Digital transformation increases agility and the capacity for innovation in enterprises. Although businesses are increasingly adopting this concept, whether they are reaping the true benefits or not is the question.
The first step in digital transformation would be to expose your core functionality to a wider audience in a controlled and secure manner. The next step would be to compose your capabilities into new products and provide value to new markets. To do this you need to have a strong integration and API management strategy that goes hand in hand with analytics. Secure, intelligent APIs and dynamic integration allows you to reap the real benefits of digital transformation and open new revenue channels.
This workshop will discuss:
Intelligent APIs
Dynamic integration
Creating a successful integration and API strategy for digital transformation
Explore how WSO2 can help enforce your digital transformational strategy (Open APIs, Cloud 2.0, etc.)
Presented by: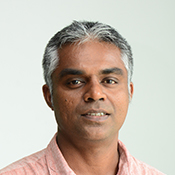 Associate Director/ Solutions Architect, WSO2
Dassana is a member of the WSO2 Solutions Architecture team. He has provided technology consulting on customer engagements helping them to successfully implement, evolve and operate rapidly-changing resilient enterprise systems based on service-oriented architecture and enterprise application integration at scale in multiple domains ranging from finance (Internet only banks) to Internet of Things (smart cities). He is an experienced coach and speaker with more than 13 years of experience in the industry. He advises and assists CxOs, architects, consultants, analysts and technical specialists in a wide range of architectural disciplines.

Sydney
Thursday, May 3
9:30 a.m. to 1:30 p.m.
Venue:The Westin Sydney1 Martin Place