With the increasing number of users and endless exposing of APIs, you need to ensure that your enterprise is secure - more than ever.
You have to work with multiple heterogeneous user stores,  authentication protocols ,  legacy systems, and more. Standards like SAML, OpenID, OpenID Connect, and WS-Federation all support identity federation  and  cross-domain authentication. But can we expect all parties in a federation use case to support these standards?
In addition, most federation systems we see today are in silos. It can be a silo of SAML federation, a silo of OpenID Connect federation or a silo of OpenID federation. It's difficult to communicate between silos and this is a common challenge in identity and access management.
Given these challenges, it's important that your IAM system can provide authentication that's high in usability, security, and convenience for your users.
We will discuss how to break identity silos, build an identity federation, and secure your enterprise using adaptive authentication with WSO2's open source Identity Server in this workshop.
Who should attend?
CDOs, CIOs, CTOs, Heads of Enterprise Architecture, VPs of Engineering, Enterprise Architects, Technical Managers, Architects, and End-Users only.
Agenda
13:00 -Welcome and Meeting Introduction
13:15 -Introductory Presentation by WSO2
15:00 -Energy Break
15:30 -Continuation of Presentation WSO2
16:00 -Customer Case
16:30 -Conclusion Yenlo
17:00 -Networking Session
Presented by: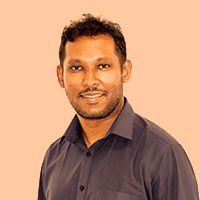 Sagara is a Director at WSO2. Primarily focusing on the WSO2 Application Server, Sagara also specializes in J2EE, Spring, Web Service and enterprise integration related technologies. In addition to his product development efforts at WSO2 he is also a PMC member of Apache Axis and Apache Web Services Projects and is an active contributor to the Apache Axis2, Woden, Web services and Nuvem projects. He currently serves as the Vice President of the Apache Web Services project. Sagara holds a special degree in Computer Science from the University of Peradeniya, Sri Lanka and also holds Bachelor of Information Technology from the University of Colombo School of Computing.