WSO2 and Profesia presents the first Italian Workshop on WSO2 100% Open Source Solutions for Agile Digital Business Integration, Methodology and Architecture.
This workshop will introduce WSO2 solutions, with an Italian Customer presenting its Business Case, and a Round Table with some of the main Italian WSO2 customers.
The event is free but seats are limited.
Who should attend
CIOs, CTOs, Architecture and IT Managers.
What you will learn,
Workshop attendees (CIOs, CTOs, Architecture Managers, and IT Managers) will discover how WSO2 can help them achieve their agile digital business innovation while ensuring maximum flexibility and integration with their customers and partners.
Agenda
13:00 - 14:00 Welcome of the participants with refreshments
14:00 - 14:30 Keynote by Riccardo Bernasconi - CEO of Profesia & Introduction to WSO2 by Dilshan Kottegoda - Senior Account Manager of WSO2
14:30 - 15:00 Customer talk
15:00 - 15:30 Realize the new digital enterprise- Companies today need to build new and complex interactions with their consumers. With the advent of social media, mobile devices and a multitude of apps, consumers today expect flexibility, ease of use, speed and agility in the services offered. Companies, to remain competitive, must meet these expectations. Building a new company architecture from scratch is difficult, reusing an existing architecture is even more difficult. The goal of this intervention is to identify the pillars needed to build the best business architecture, exploring how WSO2 can help you do it. Edited by Matteo Bordin - Principal Architect at Profesia & Stefano Negri - WSO2 Director Solutions Architecture
15:30 - 16:00 Coffee Break
16.00 - 16.50 Round Table with the participation of some of the main WSO2 Customers in Italy. Moderator: Cristiano Motta - Board Member & WSO2 BU Director
16:50 - 17:00 Q & A , Conclusions
17:00 - 17:30 Final aperitif
Presented by:
Director - Solutions Architecture,
WSO2
Stefano is a Director - Solutions Architecture at WSO2. He will focus on providing high-level consultations to prospects and customers who are looking for solutions to a broad class of enterprise application problems which can be addressed through the WSO2 platform. Prior to joining WSO2, Stefano worked at the European Central Bank as a service coordinator where he was responsible for the Enterprise Service Bus (ESB). He has more than 20 years of experience in IT, mainly in messaging systems, application integration, and ESB. He has a master's degree in Electronic Engineering from Politecnico of Milan.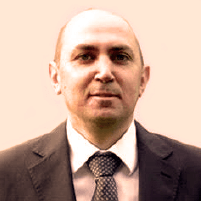 Principal Architect at Profesia,
Profesia
As a principal architect at Profesia, Matteo has extensive experience in the development and management of enterprise projects, based on agile and scalable integration architecture. He has worked on projects in several sectors, such as telecommunication, medical, engineering, and manufacturing, where he introduced model-based methodologies for efficient project life-cycles. He has successfully defined and implemented several SOA, enterprise application integration, and business process management solutions. He is also WSO2 certified and is fully competent with SOA.