Workshop
Integration in Modern Enterprise Architecture
Enterprise architecture is reshaping, shedding weight, and becoming leaner. To this end, application server based-business services and modules are now treated as legacy layers that need an overhaul to enable modernization. And microservices are offering new hope of a clean service-oriented architecture that enhances agility and scalability.
Modern services are fine-grained, focussed, and loosely coupled with no central integration intelligence; the integration intelligence is pushed down to the edge of service groups. The change is cross-cutting, hence the enterprise's engineering and architecture should look at new ways of governance, messaging, and continuous integration and deployment.
During this workshop, we hope to initiate a dialog on this enterprise architecture change. We will also discuss how the WSO2 enterprise integration platform can address complexities in this changing landscape.
Presented by: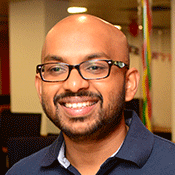 Director - Solutions Architecture, WSO2
Nuwan works closely with WSO2 customers on enterprise solutions. His experience spans across multiple verticals such as e-government, education, e-commerce, and healthcare. Prior joining the WSO2 solutions architecture team Nuwan worked as a product lead in WSO2 engineering team and has provided technical leadership for products such as WSO2 User Engagement Server (UES), WSO2 Enterprise Store (ES) and Jaggery.js framework. Nuwan has also contributed to projects such as API Manager and Carbon within WSO2 and to the Apache Web Services and Shindig projects in the Apache Software Foundation. In 2007 and 2008, Nuwan was involved in research and development for the European Union's Information Society Technologies SOA and mobile computing projects. He is also a member of the British Computer Society.

Minneapolis
Tuesday, October 09
9:30 a.m. to 1:30 p.m.
Venue to be notified.
Register
(This is an in-person workshop only)