Microservice architecture is often misunderstood and misread. The architecture promotes lightweight edge gateways and proxy processors. This very fact is misunderstood as a replacement for an API Management layer, which focuses a lot more on quality of services such as life-cycle management, fine-grained security, throttling and a developer enablement portal.
Enterprise Integration has become pivotal for organizations adopting digital transformation. Different architecture patterns augments Enterprise Integration. This includes Microservices architecture as well as Service Oriented Architecture (SOA). Today organizations have to make careful decisions on their enterprise digital architecture. Whether to adopt SOA, MSA or a hybrid approach is a critical decision that enterprise architects need to make.
During this meetup, we will discuss, the place of API Management in a microservices ecosystem. We will discuss the purpose of edge gateways and proxies and how that complements a well defined API Management layer. We will also explore how Enterprise Integration is critical and help changing enterprises digitally transform.
Presented by: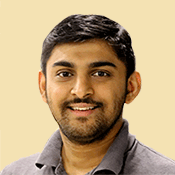 Technical Lead - Solutions Architecture,
WSO2
Shazni Nazeer is a Technical Lead in the Solutions Architecture team at WSO2. He has been engaged with few teams in WSO2 before his current role in the Solutions Architecture team. He initially was part of the WSO2 Governance Registry team where he contributed to the development of the product. Later he joined the delivery team where he had done numerous customer engagements for development and solutions implementations based on WSO2 products. Prior to joining WSO2, he worked at MillenniumIT and DirectFN where he developed C++ real-time financial applications for stock markets and brokerages.
He holds a BSc in Electronic and Telecommunication Engineering from University of Moratuwa and also holds a Master of Business Administration from University of Colombo, Sri Lanka.