The challenges presented by digital transformation, pressurizes organization to innovate and respond. The organizations can get full advantage of digital transformation only if their IT ecosystem is integration agile.
Digital transformation is leading enterprises to build a diverse set of applications and systems in silos. For a successful enterprise-wide digital implementation, business applications need to extend themselves to add new services, and to support new technologies swiftly. The methods used to build and integrate these applications need to be agile and reusable.
Systems built with distributed computing technologies have created trillions of smart endpoints. This explosion of endpoints and app disaggregation is creating new challenges like integrating or connecting the apps and systems, maintaining a single source of base data, developing apps/systems faster, better and choosing the right tool to integrate. An efficient integration platform enables a quicker and better app/system. It also reduces the cost of maintenance.
Though development teams have adopted agile methodologies, integration functions have not necessarily kept pace.
The mismatch ultimately slows the entire development and overall release process. Surveys show that even though over 50% of organizations follow Agile methodologies, less than 4% receive its full benefit.
This workshop outlines how organizations can benefit from an integration agile model presented by WSO2 & Quinnox. By attending this workshop, you will:
Understand the value add of being integration agile to your digital transformation journey
Understand the faced challenges in building platforms that are scalable and agile and how to overcome them?
Who should attend?
CDOs, CIOs, CTOs, Heads of Enterprise Architecture, VPs of Engineering, Enterprise Architects, Technical Managers, and Architects
A Hands-on Format
The workshop is interactive. Participants describe their current architecture, technology usage, culture, and digital transformation journey, ask questions, and learn from WSO2 & Quinnox practitioners.
The workshop curriculum will include:
The core principles behind being Integration Agile
Scalable and Agile: how to implement best practices of scalability and agility to achieve digital transformation
Integration Agile: how to optimize people, process, technology, and digital alignment
How to facilitate digital infrastructure using real-world examples and technologies
A self-assessment using the Maturity Model for Agility that you can share within your org
This two-hour session will demonstrate how WSO2 & Quinnox can partner with you to build an Integration Agile digital enterprise, and help you achieve your digital goals.
Presented by:
Senior Director - Solutions Architecture,
WSO2
Chris is a Senior Director of Solution Architecture at WSO2 based in the London office. Prior to joining WSO2 Chris worked for one of the largest UK Government agencies. He has over 17 years of experience in large enterprise software architecture, design, development, and operations. One of his most recent achievements has been setting up and leading a new integration delivery group, implementing modern DevOps practices and environments and adopting agile delivery and development practices. This team now designs, develops and operates integration platforms critical to the operation of UK government infrastructure.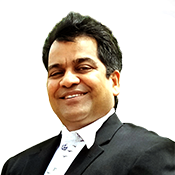 Senior Vice President & Business Unit Head,
Quinnox
Arun is an executive IT strategist focused on revenue growth. He has over 28-years of providing successful technology leadership to organizations across industries. He is responsible for building, growing and leading Quinnox Business across the UK, Continental Europe, Middle East, and India/Asia Pacific. With broad managerial, technical and business experience, he is adept at bringing people together, instilling shared vision, fostering collaboration and accelerating success for organizations experiencing digital disruption. Arun is also a reputed Speaker and has made his appearance at various international and national industry events and forums.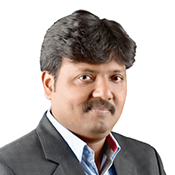 Delivery Director,
Quinnox
Arun comes with 19 years of experience in delivering IT services for US and Europe clients. Responsible for Service delivery for strategic clients. PMP Certified, CSM, and Six Sigma green belt certified. Experience in executing full life-cycle development project. Rich experience in managing Managed Service, Platform as a service and Software as a Service projects. Ability to manage multiple projects in parallel and track record in delivering projects that has an aggressive delivery schedule. Responsible for Integration Practice in Quinnox that involves developing tools and solutions around middleware integration platform. Build competency in various integration platform within the organization.