Agile and cloud-native platforms are becoming the key technology for large scale digital innovation. Successful organizations are moving towards collaborative business models involving different types of users and ecosystem partners. A successful platform should be able to adapt and evolve with internal organizational innovation as well as enabling new business models with external partners and systems. APIs are a key component of any agile platform that allows collaborative and shared development.
We will look at how a cohesive set of agile open source components enable architects and developers to build a platform that will evolve with rapid business requirements.
In this workshop, We will discuss the deployment of services on cloud-native tools at scale, security considerations and integration patterns for services.
Who should attend
Enterprise, Product and Solution Architects, Full Stack Developers
What you will learn,
Decentralized cloud native API platform
Utilizing the platform to engage stakeholders - Marketplace capabilities of APIM
API led integration using integration micro services
API security and beyond
Join us for this half-day workshop starting at 8:30 am with breakfast and ends at 1:00 pm with lunch. Hands-on participation is optional, so please bring your laptop if you want to participate.
Presented by: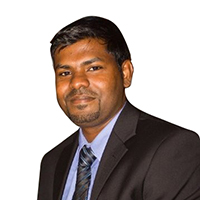 Senior Lead Solutions Engineer,
WSO2
Vanji is a member of the solutions architecture team. During the course of his career at WSO2, he has been involved in the research and development of the WSO2 Enterprise Service Bus (now repackages as WSO2 Enterprise Integrator) product. Also, he is a Project Management Committee (PMC) member and a committer for the Apache Synapse Project.