PHP Web Services: Why You Should Care - Wednesday, 26th May
By

Dasunpriya Anuradha Mallikarachchi

|

1 May, 2010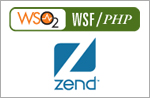 Building web services with SOA (Service Oriented Architecture) best practices in mind has become a preferred approach in the web services arena. The ability to design applications with a flexible set of design principles and loosely integrated services has become a popular method of building Web Services.
WSO2 together with Zend present this webinar on PHP Web Services and will cover the following aspects.
Understand Web services development best practices.
Discuss Web service myths and pitfalls.
Learn about prominent PHP Web services extensions.
Watch a demo of building Web Services with both the Zend Framework and WSO2 Web Services Framework for PHP.