WSO2 Use Case - Getting Started with API Manager - Tuesday, September 18, 2012
Mobile applications, service consumers, and 3rd party developer partners desire an efficient, secure, scalable, and managed API environment. In the past, service providers would spend significant time and effort configuring gateways, provisioning consumer profiles, managing access keys, integrating management infrastructure, and creating service proxies. Without an agile API environment, time to market lagged behind business opportunity.
With WSO2 API Manager, your organization gains a rapid, productive API creation and publishing environment. Watch Sumedha as he publishes, finds, explores, subscribes, evaluates, and monitors an API under 30 minutes. In this session, Sumedha will demonstrate:
How an API developer can rapidly create an API from an existing web service.
API Governance best practices to publish, deprecate, and retire APIs.
How an API consumer may use the self-service API Store to find, explore, subscribe, and evaluate APIs.
How to configure API Gateway capabilities and secure, protect, and monitor API traffic.
Why capturing API usage and reviewing API analytic dashboards delivers IT business insight.
Presenters
Sumedha Rubasinghe
Senior Architect
Sumedha Rubasinghe joined the WSO2 in November 2006. He is a software architect and chair of the data technologies management committee, who focuses on development of the WSO2 Carbon Core, WSO2 Data Services, WSO2 Governance Registry, WSO2 Business Activity Monitor, and WSO2 API Manager. Sumedha has contributed to the successful implementation of data, SAP and repository-based integration projects, as well many WSO2 QuickStart development consulting engagements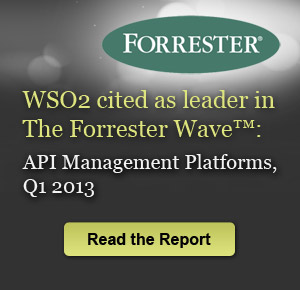 Presentation Slides
Webinar Recording