Quarterly WSO2 Platform Update Webinar - Q1 2016
Quarterly WSO2 Platform Update Webinar - Q1 2016
Thursday, March 31, 2016
09:00 AM - 09:30 AM (PDT) Catch up with WSO2 VP of Solutions Architecture, Asanka Abeysinghe, on what's new and what's coming up in the WSO2 Platform, at our quarterly update webinar for Q1 2016.
See how new products such as WSO2 Microservices Framework for Java (WSO2 MSF4J) and forthcoming WSO2 gateway technology are supporting the evolution of enterprise IT platforms, along with progress updates on the next-generation WSO2 Enterprise Service Bus (WSO2 ESB).
This session will be highly valuable to CxOs, Enterprise Architects or anyone interested in the WSO2 platform to quickly learn about new developments and focus areas the product teams are working on. Attendees will also have the opportunity to ask questions and get answers right away during this live presentation.
Presenter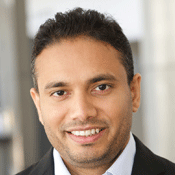 Asanka spearheads the company's customer facing technical tasks and oversees the solution architecture and technical sales functions. He also provides consulting to key WSO2 customer and conducts workshops specifically targeted at enterprise architects and technical managers. Asanka has over 15 years of industry experience, which include implementing projects ranging from desktop and web applications through to highly scalable distributed systems and SOAs in the financial domain, mobile platforms, and business integration solutions.