WSO2 Product Release Webinar: WSO2 Dashboard Server 2.0
Archived Content
This article is provided for historical perspective only, and may not reflect current conditions. Please refer to relevant product page for more up-to-date product information and resources.
WSO2 Product Release Webinar: WSO2 Dashboard Server 2.0
Thursday, March 17, 2016
09:00 AM - 09:30 AM (PDT) Companies use their business intelligence to detect significant events and identify and monitor business trends in order to adapt quickly to their changing environment or scenario. Hence visualization plays a major role in the success of the business. WSO2 Dashboard Server addresses these needs in a business and provides capabilities to create and centrally manage the visualizations/dashboards for administrators, dashboard designers, and ultimate users.
WSO2 Dashboard Server 2.0 is a successor of WSO2 User Engagement Server, and it has several new features incorporated out of the box, and provides a personalized user experience to various users from the system administrator to the CEO of the company. This webinar will discuss the following topics
Architecture and flow of the WSO2 Dashboard Server
Introduction and demonstration on the new features including

Creating, adding and deleting dashboards
Designing dashboards
Personalizing dashboards
Publisher subscriber support
Role based access control of the dashboards
Integration with WSO2 Identity Server and configuring SSO

Deployment and scalability
Presenter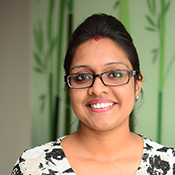 Sinthuja is a member of WSO2 Data Analytics Server team and currently leads the WSO2 Dashboard Server team. Her areas of interest include designing and developing high performance Java enterprise applications and working with distributed systems, artificial intelligence and big data technologies such as Apache Cassandra, Apache Hive and Apache Hadoop among others. She has also been involved in many customer engagements where she has helped customers in developing their solutions based on the WSO2 platform.